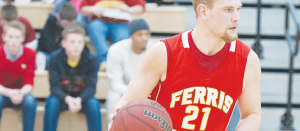 The Ferris State Men's basketball team went 1-1 this past week, falling to Lake Superior State to put a halt to their 16-game win streak.
The Bulldogs were given a great performance in both conference games by senior guard Drew Lehman, who dropped 28 points in a victory over GLIAC opponent Northwood University on Thursday night. The six-foot guard from Toledo, Ohio had 6 assists and 2 steals to go along with his 28 points. Lehman nearly tied his season high of 29 points, which he scored in games against Bowling Green State and Quincy University earlier in the season.
The Bulldog's experienced their first conference loss of the season in a 69-67 game against Lake Superior State on Saturday. Lehman put up another great performance in the game, scoring 18 points to go along with 8 rebounds and 8 assists in the game. The senior guard was the team's leading scorer in both games last week.
The Bulldogs will be hoping that Lehman can keep up his numbers as they face conference foe Hillsdale College at home this Thursday, and travel to play an 11-1 Saginaw Valley State team who shares the top spot in the conference with the Bulldogs on Saturday.