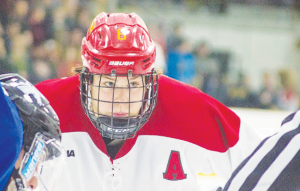 Big players score big goals in big games.
Over the past two series, the Ferris hockey team has struggled to get on the board minus one player.
Sophomore forward and assistant captain Kyle Schempp has scored a goal in four straight games, all against the nation's top team, the Minnesota State Mavericks.
Schempp's four goals are in fact the only four Ferris has scored in that stretch. One disallowed goal during a home series against Minnesota State would have meant Schempp wasn't alone, but currently his offensive production is all the team has had in their last four.
Ferris has struggled to consistently score goals, though the team has been solid defensively both up front and on the defensive end.
Schempp struggled to get on the board early in the season, but his nose for the net caused major problems for opposing teams early in the season, and now it's paying off in points. Schempp will lead the Dawgs to Bowling Green next.