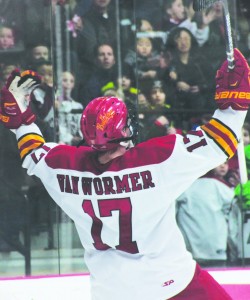 After a split with the nationally-ranked Bowling Green State Falcons, the Ferris State Bulldog's hockey team was lead this weekend by sophomore forward Jared VanWormer.
VanWormer takes home this week's Top Dawg honors after posting a three point weekend, which included two goals in the series finale on Saturday evening. VanWormer's second goal on Saturday night was a game winner in overtime to push the Bulldog's record to 12-18-1 on the season and a 7-11 record in WCHA play.
VanWormer also assisted on the Dawgs lone goal in Friday's contest, as the team fell to the Falcons 4-1.
The 6-foot, 191 pound forward hails from Traverse City and has posted 13 points on the season, which includes six goals and seven assists. VanWormer appeared in 27 games for the Bulldogs in 2013-14, where he tallied five points with three goals and two assists.