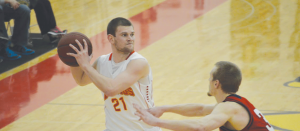 The Ferris State men's basketball team lost in a nail biter to Hillsdale last week 74-73. A career-high 37 points by guard Drew Lehman catapulted the Bulldogs within reach, but they fell just short in the waning seconds when the senior captain's last second shot didn't fall.
The Dawgs didn't dwell on the defeat, as they topped Saginaw Valley State 78-72 for the second time this season just three days later. Lehman once again led the team in scoring, netting 20 points while also dishing out three assists and shooting a perfect 8-8 from the free throw line.
The 6-foot guard from Toledo, Ohio is making the most of his senior season in the crimson and gold, as he leads the team this season in points per game with 18.5, minutes played per game with 33.4 and free throw percentage with 79.2.
The Bulldogs will next see action on Feb. 26 in their regular season finale in Wink Arena. The women's team will start the day against the Lakers at 6 p.m. before the men tipoff at 8 p.m.