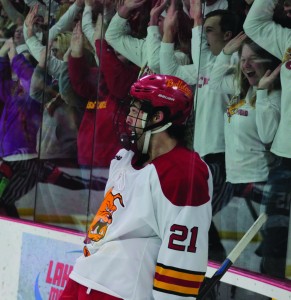 The Bulldogs earned credit for pushing the game to overtime thanks to a late rally on Senior Night against Bemidji State in the regular season home finale, and the team was lead by senior forward Justin Buzzeo.
Buzzeo takes home this week's Top Dawg honors after scoring the tying goal in the 3rd period of the series finale. Earning an overtime loss instead of a typical loss was crucial for the Bulldogs, who now still hold a fighting chance to get home-ice advantage for the first round of the WCHA playoffs if they play well this weekend against Lake Superior State.
Buzzeo had a phenomenal season, and has the second most total points on the team with seven goals and 11 assists. He has also been a modicum of consistency, playing in all 35 games thus far this season.
Buzzeo was honored along with the five other seniors on the team in a ceremony before the series finale for his career of contributions to the Bulldogs.