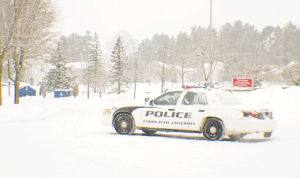 A party gone wrong yielded 32 Minor in possession citations and four arrests, but further details have been held up by local law enforcement.
The Torch filed for the incident reports under the Freedom of Information Act for the party that took place on February 22 and was responded to on March 3 by the Big Rapids Department of public safety.
The Torch filed only for the portions of the incident report regarding the arrests at 211 E. Grand Traverse.
The incident report was denied as "the information requested includes investigating records compiled for law enforcement purposes and disclosure as a public record would interfere with law enforcement proceedings," according to the response.
City Attorney Eric Williams was reached and noted that it may take "a few" weeks for the incident report to be released.
At press time, the incident remains open, though it was unspecified within the report as to why it remains open.
The 77th district court of Mecosta County has set arraignment dates for all of the offenses from the party on Thursday, March 19 at 9 am.
The Ferris Department of Public Safety, despite the fact that the Big Rapids Department of Public Safety was called to the scene and called Ferris DPS for assistance, provided the majority of the available information.
The house at 211 East Grand Traverse is owned by Peak Properties, and while tenants were arrested, their names remain unavailable at press time due to the lack of incident report.
Peak Properties lists on their website that they are a student housing option. It is confirmed that Ferris students were at the party.