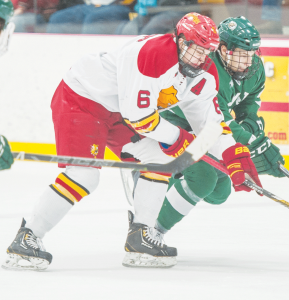 Sophomore forward Kyle Schempp scored a game winning goal in triple overtime against Bemidji State to not only win the game, but to send the Bulldogs to the WCHA Final Five Championship, and for that he earns this week's Top Dawg honors.
Schempp finally sent the crowd home after almost four and a half hours, the longest game in school history and the 3rd longest in WCHA history, according to their records.
The goal caps a successful year for Schempp, who now has ten goals and six assists for 16 points on the season, one of the highest totals on the team.
It was shaping up to be a slightly disappointing year for the Bulldogs, but they have rebounded nicely, boasting a 7-1-1 record in their past nine games. The Dawgs will look to continue their recent success as they advance to play top-seeded Minnesota State in the championship.