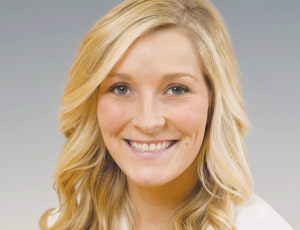 The Bulldog softball team had two doubleheaders this past weekend and received some great hitting from this week's Top Dawg, Bailey Darwin.
The sophomore infielder from Chelsea, Mich. was 6-13 in four games against Lake Erie and Ashland University, which combined for a .462 batting average in those four games. Darwin hit two singles, three doubles, and a home run to give her 5 runs batted in (RBI) for the Bulldogs. The home run was Darwin's first as a Ferris State player.
Darwin upped her batting average to .211 on the season with her outing in the two doubleheaders. She has 23 hits on 109 at bats for the Bulldogs with 7 RBI's and 11 runs on the season.
The team went 1-3 in the doubleheaders, with their only win coming against Lake Erie last Friday by a score of 10-3. Darwin hit a double and a home run in that outing.
The Bulldogs currently sit at 10-26 on the season and will play again today in Big Rapids against Lake Superior St. beginning at 3:00 p.m.