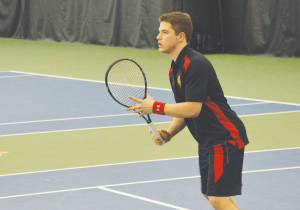 Ferris State's Laurent Galarneau earns Top Dawg honors this week as he led the Bulldogs to two impressive wins over Northwood and Wayne State.
The Northwood victory was spectacular, as Northwood has won 20 consecutive GLIAC Championships, and 171 out of their last 172 league match-ups.
Galarneau, the top singles player for Ferris State, set the tone against Northwood with a 6-0 victory in the first set. He then went on to win in a tiebreaker. He was also strong against Wayne State, winning in straight sets over the Warriors' ace Mohamed Fazyl Kechai.
With the two wins, the men's tennis team moves to 7-0 in GLIAC play and remains in first place, all the while inching that much closer to the GLIAC title that they so desperately covet.