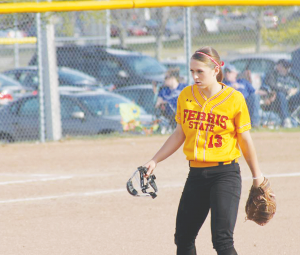 This week's top dawg achieved something that doesn't happen very often. Ferris State sophomore pitcher Stacy Thompson threw a no-hitter in the Dawg's 5-0 win against Lake Superior State last Friday.
In the second game of a doubleheader, Thompson faced 25 batters, striking out 4 and walking 2 on her way to her first no-no of her collegiate career. With the win, Thompson improved her record to 5-5 on the season.
Besides the three errors committed by the Bulldogs in the game, the defense was solid behind Thompson, which helped lead to her no-hitter. At one point the bases were loaded, but Thompson got out of the jam, and the Dawgs had a five-run second inning to propel them past the Lakers of LSSU.
The sophomore has pitched 71.1 innings this season in 18 games, 10 of which she has started. Thompson holds the lowest earned run average (ERA) of any Bulldog pitcher, with a mark of 3.34. She has allowed only 44 runs, 34 of those being earned runs this season.
Thompson's no-hitter marked her fifth complete game of the season, more than any other Bulldog pitcher. The Bulldogs sat on a 15-31 overall record as of April 20, and have a double header at Hillsdale this Friday, followed by another double header at Findlay on Saturday.