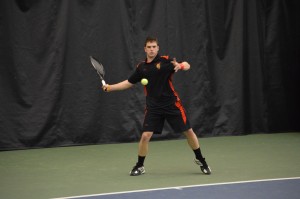 The Ferris State women's tennis team and GLIAC Championship-winning men's tennis team both suffered season-ending losses in NCAA Division II Tournament play over the weekend.
The women, who had qualified for the tournament for the 20th time in school history, were bumped from the bracket by tournament host Indianapolis in a 5-0 shutout.
Despite battling the Greyhounds in a pair of closely contested doubles matches, the Bulldogs were unable to notch any wins against Indianapolis, thus ending their season.
The Dawgs will not see any attrition, as the team did not field a single senior this year. With a team full of underclassmen returning next season, the Bulldogs will be hoping to build on their 19-9 2014-15 campaign.
Meanwhile, the men's tennis team was able to advance to the regional round after beating out Southern Indiana 5-2.
However, on the cusp of earning a ticket to the Sweet Sixteen, the Bulldogs fell to Drury University, this time ending up on the wrong end of a 5-2 margin.
This season proved to be historic for the Dawgs, as flawless play through the conference schedule led to a 9-0 GLIAC record and a conference championship. The Bulldogs also earned an NCAA Division II Tournament berth for the second time in Head Coach Chad Berryhill's three-year regime.
Next year, the Bulldogs will be tasked with replacing two senior standouts that together served as the team's top doubles duo. Seniors Laurent Galarneau and Aaron Dial have both played their last matches as Bulldogs, but the pond is still stocked with plenty of talented underclassmen to lead the team next year.