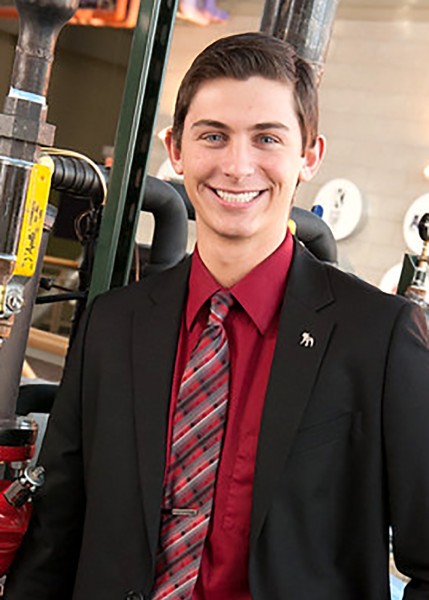 Wayne Bersano is a senior in resort and hospitality management from Pinconning. He was elected after a year as vice president under Andrew Kalinowski. He campaigned while studying in Germany last semester.
Torch: Was it a challenge to campaign for president from across the world?
Bersano: It was stressful to say the least. I was constantly online emailing people and contacting professors. I had to be sort of a guide because I was away. As far as the campaigning, Chauntel [Wooten, Bersano's campaign manager and Student Government vice president] put in tons of hours spreading the word. I have so much trust and respect for her.
Torch: Your campaign focused on collaboration, leadership and diversity. How would you like to see those things manifest now that you're president?
Bersano: In the big picture, all of them are intertwined. I want to see more diversity on campus through collaboration. I want people to aspire to be good leaders and get involved. Whether it be with international student organizations, religious groups or special interests groups, those groups coming together makes a better environment. I really feel ignorance is where hate comes from. When you break down those barriers, you realize we're all just human. That's what I want to see happen on this campus.
Torch: What did you learn while studying abroad in Germany?
Bersano: I was constantly surrounded by foreigners. I met people from Syria, Dubai, Egypt, China, Columbia, the list goes on. Being in an environment where you're constantly surrounded by such diversity, you get to learn so much about culture. I don't think the International Office and study abroad program are utilized enough.
Torch: How can Student Government be a resource to students?
Bersano: To an individual student, if you join Student Government, you get to represent the students and make decisions that impact students. When people come to us for advice, like the university did when they were making the UC, we get to have a say. For RSOs, they can always come to us for collaboration. That's a big thing, we try to collaborate on all of our events to get more people in on a project and boost excitement about it.
Torch: Do you have any advice for incoming freshman?
Bersano: Get involved on campus very quickly, but make sure you don't overwhelm yourself. A new location and new friends leaves you a lot to balance. Don't forget your studies but make sure you have a good first year.
Student Government's executive board:
Chauntel Wooten, Vice President
Dylan Carpenter, Director of Finance
Benjamin Brackett, Treasurer
Levi Cipcic, Parliamentarian
Kaitlyn Patrick, Director of Philanthropy
Keegan Murphy, Director of Public Relations
Chris Cipko, Interim Director of Operations
Zach Wohlgamuth, Interim Director of Internal Assessment
Jasmine Franz, Administrative Assistant