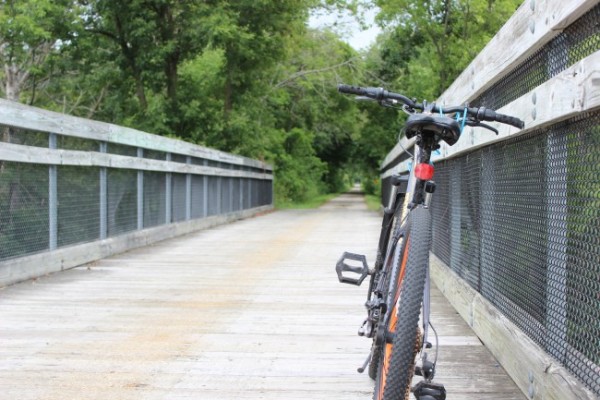 Plans are now in motion to fully pave Michigan's longest rail trail.
The Michigan Department of Natural Resources recently applied for a $4 million grant from the Michigan Department of Transportation to pave an 11.8-mile stretch of the Fred Meijer White Pine Trail from Leroy to Reed City.
"We will know soon if we are successful with the grant application and, if lucky, should be able to put the project out for bid in late 2016," said Paul Yauk, of the DNR's Parks and Recreation Division. "We will apply for additional funds to complete the other 30 miles of the trail in following years."
Referred to by many as the "I-75 of rail trails," the White Pine Trail is a 92-mile trail stretching from Cadillac to Comstock Park. Formerly a part of Michigan's rail system, the trail is now used primarily by cyclists and snowmobilers. Nearly 40 miles of trail is unpaved, including a section of trail from Sand Lake north to Big Rapids.
Xavier Locke, an energy systems senior, enjoys the trail most during the fall.
"I ride my bike to the disc golf course at least once a week," Locke said. "It's very scenic. It's awesome during the fall because there are so many colors."
Big Rapids City Manager Steve Sobers bikes north on the paved portion of the White Pine Trail Frequently and said the city has always encouraged the DNR to improve the unpaved portion of the trail.
"The trail is a pretty important tourist attraction and community attraction," Sobers said.
The DNR announced plans to put crushed limestone on all 40 miles of unpaved trail in June. Dozens of trail users and several state legislators challenged the DNR, saying limestone would be an expensive temporary measure and that asphalt, while more costly, would be better.
"The purpose of improving the trail is to open the trail up to more users," said Dave Heyboer, chairman of the Friends of the White Pine Trail. "Limestone would keep the vast majority of potential users off the trail."
"We're optimistic we'll see major progress in the next few years," he added.
The White Pine Trail is located next to the old train depot on the east side of Big Rapids.