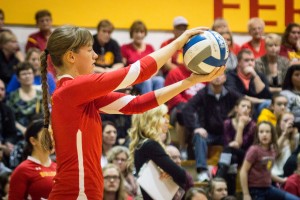 The spirits are high for this upcoming season as the Ferris State volleyball team opens up ranked 18th in the nation.
Chemistry and team unity shouldn't be a problem for the Bulldogs as they return 11 players including Academic All-American libero Danielle Dowd.
Unfortunately, the Bulldogs lost former GLIAC freshman of the year Courtney Rehm this offseason. Assistant coach Christina Jung had nothing but praise for the departing Rehm and other seniors from last year's squad.
"She is an outstanding player and a great leader on and off the court. Losing her and Claire Grawburg is definitely a big loss to our team, but we have a lot of girls returning so we should be fine," Jung said.
The leadership of Rehm and Grawburg on the court certainly aided in their success last year, but FSU returns three senior hitters in Alexis Huntey, Megan Vander Meer, and Caroline Heitzman.
The three seniors were major contributors in an effort that landed the Bulldogs at 10th in blocks per set nationally last year. Leading the team in this category was Heitzman with 77 blocks on the year and 0.83 blocks per set.
Last year, the Lady Bulldogs put up an impressive perfect home record as well as an almost perfect 17-1 conference record. Their only blemish came at the hands of rival Grand Valley State University early in the season. After beating the Lakers to win the GLIAC tournament, Ferris State lost to them again in the regional semifinals of the NCAA tournament.
"It was definitely hard to swallow. It's always tough to lose to Grand Valley. We're just looking to take it match by match this year and hopefully things go in our favor. We want to make it back to the nationals like we did in 2013," Vander Meer said.
Their first opportunity at Grand Valley is at home on September 29th, but there are too many games before that to focus on revenge now.
"We have many more tough, competitive teams just in conference so we're looking to bring it every week. Everyone presents a new challenge and we need to be prepared to take that on," Jung said.
Ferris State opens up the season against the California University of Pennsylvania Vulcans at the Ferris State Invitational. The Bulldogs won both of their games in the Invitational in 2013. The Vulcans posted a 30-9 record last season and made it to the third round of the NCAA Tournament.
The Bulldogs will take on the Vulcans in Big Rapids at 12:30 p.m. and will play Missouri Western State at 6
p.m. on Friday, Sept. 4th.