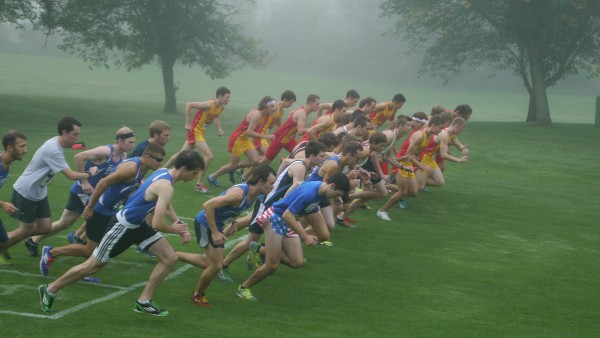 The Ferris State Cross Country team has a monster group of fresh legs this year, and they put them to good use this past Saturday.
Fifth year senior Ryan Wickstrom discussed leadership roles and youth on the team.
"As far as upperclassmen go, me, Logan [Hammer], and Kyle Richardson just show up everyday and set a good example. With a sport like cross country it's all about consistency. If we put in the work we need to, we can push the others to push themselves just as far," said Wickstrom.
To keep the tread on the tires fresh, Coach Jared Kelsh has been managing the miles on his players this offseason. In his second year as head coach, the former Ferris State alum seems to have the appreciation and loyalty of his runners.
Junior Alyssa Cummings had some positive words for her coach.
"He's a really great guy which makes it easier to relate to him," she said. "He does a good job of knowing when to push us harder and when he needs to reduce our miles. As a mentor, he teaches us how to persevere through fatigue and get that little extra. It's just a privilege to be coached by him."
Both Wickstrom and Cummings agree that the team as a whole has improved vastly over the summer in no small part due to the effort that Jared Kelsh has put in.
The Bulldogs started off the season at the Ray Helsing invitational this past weekend. In the eyes of Wickstrom, this was about more than running. It was about honoring a Ferris State legend in Helsing who coached 20 All-Americans and is essentially the "Father of Ferris State cross country" as put by the Ferris website.
"It's sad that he died last year, but it makes this meet a little more special and [gives us] a chance to honor him. He's a legend, and like our coach, he was a great mentor. He [Helsing] means a lot to this program," Wickstrom said.
For Ferris State, both the men's and women's teams won the event in a landslide on a day where the land literally slid as the course was muddy.
The men filled 15 of the top 17 best times owning all top 10 spots with Sophomore Trevor Holowaty leading the pack with a time of 26:25.86. Coming in second and third were juniors Logan Hammer and Kyle Richardson respectively. The women were just as impressive as they owned the top eight positions with senior Emily Haynes in first with a time of 19:15.9.
What can we expect from this year's team? Cummings believes that they'll get as far as their work will take them. With the leadership from the coach and the upperclassmen, the goal is regionals and then nationals.
The Bulldogs' next meet will be this Saturday at the MSU Spartan Invite in East Lansing.