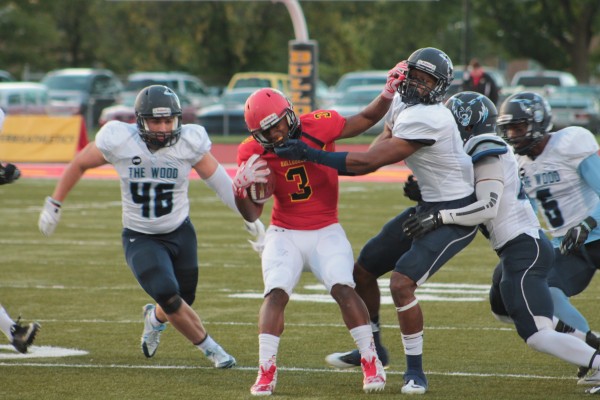 The trees have begun to carry a crimson and gold tinge, and there was a distinct autumn chill in the air, but that wasn't enough to stop 5,976 Ferris fans from watching the Dawgs top Northwood 40-3 under the lights in the first game of the season.
On a chilly night, the Northwood offense started cold with only 67 yards in the first quarter thanks to a Ferris defense that was set on stopping the run, oftentimes bringing eight or more bodies into the box. Northwood is a read-option team, but dogs don't always bite when you throw a bone.
The Bulldogs looked like they were going to run away with the game early with a two-play 83 yard touchdown drive when senior Jason Vander Laan connected with Jamel Lockett for 56 yards. On their next possession, Ferris was put in great field position after a deep connection with senior Antonio Agurs who emerged as an early star of the game with 4 catches for 94 yards in the first half, but they were held to just a field goal.
On the subsequent Northwood possession, the Bulldogs were caught off guard when the Timberwolves decided to air the ball out with senior Mark Morris connecting with senior Dan Richmond for 62 yards. They were also held to a field goal, which would be the only points of the game for the Timberwolves.
Later in the game, Ferris state punted the ball when the returner for Northwood scooped it up only to have the ball knocked loose after a monster collision that ultimately ended with Ferris State's Kyle Kujawa recovering the ball in the end zone for a touchdown.
From then on out it was all Ferris State who won 40-3. Vander Laan, last year's Harlon Hill Trophy winner, was exceptional with 137 yards rushing and 320 yards passing through three quarters when he was ultimately taken out shortly after. His top targets were Lockett and Agurs with 96 yards and 2 touchdowns and 95 yards receiving respectively.
Of course defense plays a role in a 40-3 win, and leading in tackles for Ferris was defensive end David Holley with 8 stops.
This should give the Bulldogs momentum heading into next week when they face rival Grand Valley State in Grand Rapids, MI. Last year, Ferris State rolled over the Lakers like they did most of the GLIAC en route to a conference championship.
This year the game is on Grand Valley's field and as Ferris State Head Coach Tony Annese said, "Once two teams line-up, X's and O's tend to go away."
The action kicks off at 7 p.m. in Grand Rapids, MI.