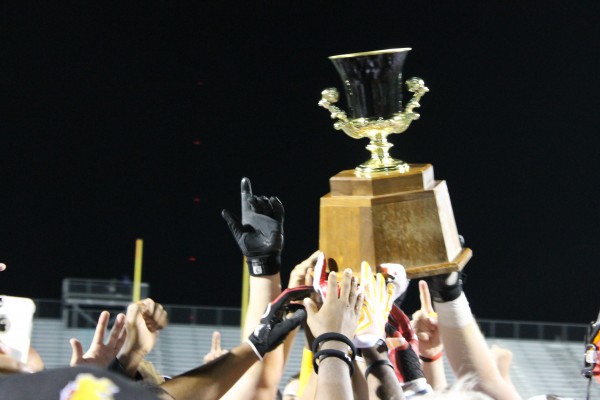 ALLENDALE, MI—The Anchor-Bone Trophy will reside in Big Rapids for the fourth consecutive year after the Bulldogs topped the Lakers on the road 61- 24 on Saturday.
Lubbers Stadium hosted its 2nd all-time highest attendance, as 16, 121 football fans came out to witness another installment of the Anchor-Bone Classic. However, many of the GVSU faithful started to dissipate midway through the second half when things were looking bleak for their hometown Lakers.
Celebrated as Grand Valley's "Blackout" game, senior quarterback Jason Vander Laan had little trouble spotlighting GVSU's weaknesses through the air. He recorded 419 passing yds. and threw for 3 touchdowns. Piling up those kinds of stats also came with some trouble, as Vander Laan was picked off twice Saturday night.
Vander Laan was also efficient on the ground, rumbling ahead for 77 yds. and 3 more scores. Also carrying the rock for the Dawgs was running back Ben Hinamanu who busted a 76-yd. rushing touchdown late in the fourth quarter to help bury GVSU.
The Bulldog defense was tested against a Laker squad that has scored 31.5 points per game this season, but thanks in large part to senior linebacker Anthony Darkangelo who tallied 3 Tackles for loss and 6 total tackles, the Laker offense was stifled.
The stat line and scoreboard tell the tale of a comfortable win. However, that was not always the case. Ferris St. clung to a 27-17 lead and faced hardship gaining any momentum on the ground at halftime, and the outcome didn't look nearly as certain.
Yet the Dawgs came roaring into the second half and never looked back on their way to a runaway victory.
The undefeated Bulldogs will hope to keep rolling through GLIAC play when they host Saginaw Valley State at home for Homecoming next week. Kickoff is set for 2 p.m. on Saturday afternoon.