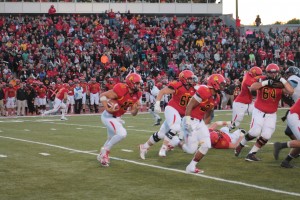 The nationally ranked No. 4 Bulldogs toppled GVSU last week, and will hope to build on their 61-point explosion from that contest when they take on Saginaw Valley State to cap off Homecoming this weekend.
Last year, the Bulldogs were able to run all over the Cardinals, as a total of 10 Ferris St. ball carriers combined for 290 yds. and a pair of touchdowns in 2014's 47-13 victory. Having relied on a pass-heavy attack thus far this season, the Dawgs will likely be looking to repeat their success on the ground and help to establish the run once again.
Ferris St. also flew high on the day in the passing game, as Vander Laan threw for four touchdowns and 257 yds. On the other end of the touchdown passes were receivers Shakur Sanders and Jujuan Pollock who each caught one touchdown, and Kenny Feyh who accounted for the other two. Vander Laan attributes much of his success to the receivers around him.
"Those guys are awesome, both our slots and our receivers. Half the time I'll just throw a 1-yard pass on a bubble and they'll turn it into a 50-yard touchdown," Vander Laan said. "They love blocking for each other and they're some of the hardest working guys on the team and are so unselfish. They can make a lot of plays when the ball is in their hands, so I'm just really glad they're on our side."
5,976 Ferris fanatics flocked to Top Taggart Field to ring in the new year of football with the Bulldogs when they opened their 2015 season against Northwood. This number is a big step up from last year's home attendance average of 3,054.
"I don't really notice the fans. It could be 6,000, or 60,000, or 360,000, I just don't notice it. Tonight, I did turn back at halftime and said to myself 'wow.' The culture has really changed here, and it's just incredible that we've got that kind of support," Annese said. "For our guys, at the end of the day, it means a lot to them. We're elated by it, and hopefully it continues."
Redshirt freshman and Division I transfer defensive end Dylan Roney further emphasized Annese's statement.
"Playing in front of a big crowd is a lot of fun, because for the whole game I just have an adrenaline rush. Lots of times when the defense is on the bench we can't really see what the offense is doing, so if we hear the crowd start going nuts we know that there was a big play, and we get pumped up," Roney said.  The home football game will be a cornerstone of Homecoming week here at Ferris. Kickoff against Saginaw Valley State is set for 2 p.m. on Sept. 26 at Top Taggart Field.