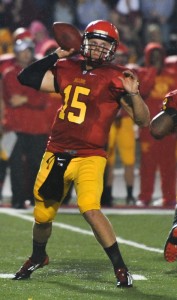 Jason Vander Laan was virtually unstoppable last Saturday against rival Grand Valley State.
The Harlon Hill Trophy winner picked apart the Laker defense on the way to a 61-24 victory. Vander Laan completed 32 of 45 passes for a whopping 419 yards and three touchdowns. His only blemishes were two interceptions that he threw in the second and third quarters.
The Ferris State coaching staff must have seen something in the Grand Valley defense because Vander Laan's 45 pass attempts were tied for the most pass attempts in his career. His 419 yards through the air were also good enough to set a career high.
Although none of Vander Laan's touchdowns went to him, wide receiver Antonio Agurs caught 13 passes from his quarterback for 153 yards in an impressive showing. Vander Laan spread the ball to eight different receivers and threw touchdowns to Shakur Sanders, Jake Lampman and Kenny Feyh.
The quarterback was also lethal on the ground, where he ran for 77 yards and three more touchdowns to help the Bulldogs to their fourth straight win against Grand Valley State in the Anchor-Bone Classic. This means Vander Laan has never lost to the Lakers in his time as a quarterback at Ferris State.
Vander Laan looks to keep up the impressive play this Saturday as the Dawgs take on Saginaw Valley State for homecoming at 2 p.m. at Top Taggart Field.