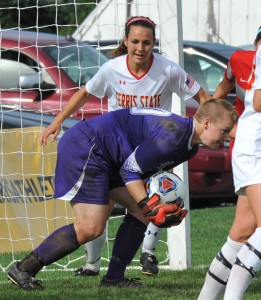 Allowing only three scores and making 20 saves last week, Maddie Haustein played a huge role in keeping the Lady Bulldog soccer team's undefeated record alive.
The Lady Bulldogs, who are now on the eighth game of their undefeated streak, swept their competition last week with the exception of one tie on Sunday which came against the Findlay Oilers.
Haustein allowed only one goal per game out of the three they played last week, and not one of those three goals came after the first half of the game. Having that security on the defensive side of the field was a huge boost to the Lady Bulldog soccer team. Two of the three games played last week went into double overtime, making Haustein's performance even more impressive.
Since their eight game win streak began against Indiana Wesleyan in the second week of September, Haustein has only allowed four goals. Every good goal keeper would of course give a lot of credit to their defenders, but Haustein's performance over the course of the team's last three game stretch has really shined for Bulldog soccer.
Haustein looks to once again help defend the Bulldog's impressive streak when they take on the Timberwolves of Northwood, Friday, Oct. 2nd.