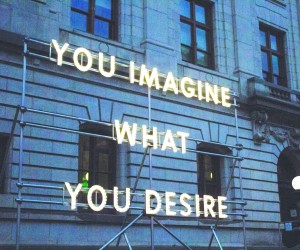 For me, I know that fall has finally arrived whenever I start hearing about ArtPrize coming back to Grand Rapids.
This is its seventh year gracing the unique city and I'm sure there will be many more to come.
Being from the Grand Rapids area, I have visited every single ArtPrize for at least a day or two and each time has been memorable in its own way. This year was no different, even though I chose one of the rainiest, windiest days of the week to go.
Even with the unfortunate weather, the amount of people who were in town to see all of the art was mesmerizing. Almost every street parking space was filled no matter where we turned. My boyfriend and I ended up having to get a spot in one of the nearby neighborhoods and walking into town.
After we visited a local sports bar and got a couple Michigan craft beers, we ended up at the Kendall College of Art and Design Ferris Building. There are tons of venues all over the city, but this is a regular venue for the ArtPrize event each year. It always houses some of the best and coolest art.
My favorite piece was this series of small printers lined along the ceiling. Each one was supposedly searching on Twitter for tweets with a certain word. Every time someone posted a tweet with that word in it, the printer would print it out on this long sheet of paper.
Needless to say, a lot of people tweet and the floor was piled high accordingly. I thought the whole idea of the piece was really neat but, I'm not going to lie, I just kept thinking about how much it was going to suck to clean up eventually.
ArtPrize has thousands of works and I don't think that I will ever get a chance to see every single one, but even going to see just a portion of all the art is completely worth it.