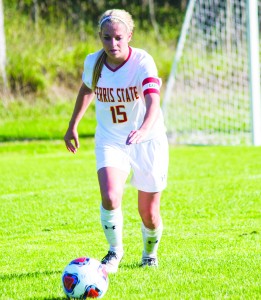 The Ferris State women's soccer team has been tearing through their competition.
The Bulldogs have nine wins and a tie in their last 10 games on the way to a 9-2-1 overall record, and a 5-0-1 record in the Great Lakes Intercollegiate Athletic Conference (GLIAC). With nine wins, the Bulldogs have already won three more games than they did in their 2014 campaign, in which Ferris posted a record of 6-10-2.
Ferris State sits in second place in the GLIAC behind Grand Valley State. An enormous amount of the Bulldog's success could be contributed to the team's defensive play. In their past 10 games, the FSU defense has only allowed four goals.
Of course when the defense isn't allowing goals, they are getting some major help in the net. The Dawgs are getting just that in senior goaltender Maddie Haustein.
An amazing talent, Haustein has nine wins, with an outstanding six of those wins coming in shutout fashion. She has played in all 12 games and only allowed 10 goals. Her teammates have nothing but good things to say about their goalie.
"Maddie is an amazing player on and off the field. She is always giving her all and has stepped up this year as a leader," said junior defender Meredith Smith. "She is injury-free this season which gives her the chance to play to her full potential which has shown immensely."
Haustein had similar things to say about the defense that helps her out. She said, "I am very lucky and thankful to play behind such a solid defense. They help make my job so much easier."
The back four for the Bulldogs haven't just been contributing on the defensive end, but have been putting the ball in the net as well. More goals have been scored by players listed as defenders on the roster than those listed as forwards. Meredith Smith says that some of those defensive players have actually been playing forward this season.
The starting Ferris defense consists of three seniors and a single freshman, Carley Dubbert. The St. Joseph, Mich. native has three goals and two assists for the Bulldogs in her freshman campaign. Dubbert and the three other seniors make up one of the best defenses in the GLIAC.
"Coach really emphasized defense in preseason so we have worked on it a lot.  We have three seniors who play for our back line that really know what they are doing and will do anything to stop the ball from going into the net," said Dubbert.
Last weekend the Ferris defense and Maddie Haustein shut out both Northwood University and Saginaw Valley State 1-0 and 2-0 respectively. Midfielder Abby Meirndorf had two goals over the weekend, the lone goal against Northwood and on a shot over the keeper against Saginaw Valley State. Casey Shauman, also a midfielder, scored the first goal of the game against SVSU.
"One of the best things we have going for us, and what I think has been one of the major differences in this year from years past is our team attitude. We have all rallied behind this streak. We don't want it to end. Combine that with the ability to say we are doing things that have never been done in our program's history is a huge motivator to keep us playing at a high level," said Haustein.
The Bulldogs look to continue playing at that high level as they travel to Ohio for the weekend to take on Lake Erie this Friday at 5:30 p.m. and Ashland at 12:00 p.m. on Sunday. Their next home game will be Friday, Oct. 16th against Northern Michigan.