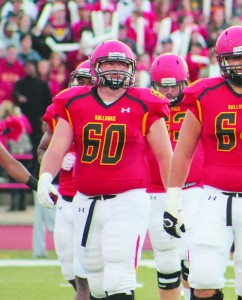 The Ferris State football team is back at it this upcoming Saturday as they face the Tiffin Dragons in Ohio for a game that should be a battle of the offenses.

Tiffin is 4-1 after beating Wayne State 31-7 this past weekend for their homecoming game. Tiffin is hoping to get a win against the Bulldogs. The Dragons played Ferris State last October, but were severely outmatched in a game where they were demolished by a score of 68-20.

Jason Vander Laan and the Bulldogs are ready to keep rolling as the team is currently 4-0 following a 42-39 comeback victory at Findlay last weekend.  Sophomore Jake Daugherty of the offensive line knew the game was going to be close.  "Findlay is a good team, they've got a good offense and good defense so it will be a tough matchup," said Daugherty.

Tiffin played Findlay earlier in the season and lost 48-44, but showed that Antonio Pipkin is definitely a quarterback to watch for the Dragons. Ferris State running back Kyle Kujawa addressed how he thinks the Bulldogs will handle Pipkin. "He is definitely one of the best quarterbacks we will face, I think the key will be to get pressure to his face and take him off his game," Kujawa said.

The Bulldogs will be training hard this week and will look to improve their record and stay undefeated. "I think we are going to put a big focus on special teams this week, that's where the hidden yardage is and that's what will end up winning us the close games," Kujawa said.

Ferris will definitely have its hands full this upcoming week on their second game in Ohio in as many weeks. Last week against Findlay, the Dawgs started off slow but came back from down 14 points to overtake the Oilers.

Daugherty is expecting a hard fought matchup this week in Ohio but has faith in his team. "It's always a good day when the offense is scoring and the defense is playing well so hopefully we come out play well next week against Tiffin and keep on rolling and keep working hard every day."

Ferris State quarterback Jason Vander Laan will look to inch his way closer to becoming the all-time leading rusher at the quarterback position in any division of college football. Vander Laan is currently 222 yards shy of the 5,128 yard mark set by Wofford College quarterback Shawn Graves in 1989.