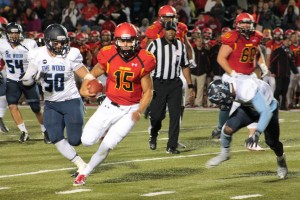 Ferris State quarterback Jason Vander Laan has yet another opportunity to place his name in the record books.
The 6-foot-4 senior from Frankfort, Ill. needs just 46 yards to become the all-time Great Lakes Intercollegiate Athletic Conference leader in total offense. These yards can come either in the air or on the ground, but one thing is nearly certain: he will break the record this Saturday against Tiffin. Probably in the first quarter, and maybe even on the first drive.
Vander Laan is also on pace to become the all-time leading rusher at the quarterback position in any division. Vander Laan sits 222 yards away from that milestone. If he can keep up what he has been doing, it should take two games to set the record. The Harlon Hill Trophy winner is averaging 123.75 yards rushing per game for the Bulldogs.
He will have his shot this Saturday as the Bulldogs will take on the Tiffin Dragons in Ohio at 1:30 p.m. The Dawgs will return to Top Taggart next week to play Ohio Dominican on Oct. 17th at noon. Ohio Dominican handed FSU their only loss last year in the second round of the NCAA Division II playoffs.