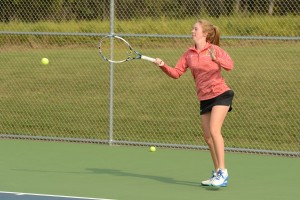 Ferris State tennis player Nicole Meylor was a perfect 4-0 this weekend. That's why she receives this week's Top Dawg award.
The 5-foot, 7-inch freshman from Wauwatosa, Wisc. took home a couple wins in doubles and singles last weekend for the Bulldogs.
Last Saturday, the Ferris State women's tennis team beat Ashland by a score of 8-1.  Two of those eight points came at the racket of Meylor. At the No. 3 doubles flight, Meylor and her partner, freshman Nika Hein defeated Ashland 8-4.
Meylor added a win at No. 5 singles, beating Ashland's Kendal Stephens by a score of 6-2, 6-3.
Meylor continued her good play on Sunday, winning another doubles match with Hein. This time the tandem would win 8-1 against Walsh. Meylor won her singles match that day in dominating fashion. The freshman handed Walsh's Gabriela Laguna-Leon a couple bagels in a 6-0, 6-0 victory at No. 5 singles.
The 7-3 Bulldogs will be in action on Thursday, Oct. 15 at 4 p.m. at Grand Valley State.