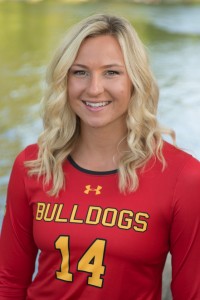 The Ferris State Women's volleyball team takes on the GLVC/GLIAC tournament as the top seed from the GLIAC conference.
The eighth annual Mizuno GLVC/GLIAC Crossover Volleyball Tournament, one of the nation's largest volleyball tournaments at the collegiate level will be held on Friday, Oct. 16 and Saturday, Oct. 17.
The weekend consists competition from 16 teams from both the Great Lakes Valley Conference (GLVC) and Great Lakes Intercollegiate Athletic Conference (GLIAC). The tournament will consist of 48 matches conducted on eight courts at one of the top volleyball facilities in the country.
"Everybody is really great. We'll probably play some of the same teams we've played in the past. We usually end up playing Lewis and Indianapolis. Those guys are awesome. They run a fast pace offense that we don't get to see much so it's really great to play them. The teams are all-around pretty great," said Ferris senior Caroline Heitzman.
One GLVC team and one GLIAC team will match up each game. The conference with the best combined record at the end of the weekend will earn the Crossover traveling trophy.
The Bulldogs have one game Friday, Oct. 16 and two games Saturday, Oct. 17 and will be ready to show why they are ranked fourth in the nation with a 17-1 record.
Heitzman knows how competitive this weekend will be and is ready to take on the GLVC and their fast paced offenses.
"We're definitely just going to work to be on top of the game a little bit better, be more executional in our blocking and our defense. It's something that takes a second to click with you again because you don't see it all the time in the GLIAC, but once you see it that first play you're like 'All right, it's time to go." Heitzman said.
The weekend should definitely have some intense matches that will prove a good challenge for the Bulldogs. You can follow along with Ferris Athletics as live updates will be provided on their website.