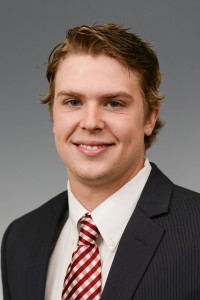 The Ferris State hockey team will host the Badgers of Wisconsin this weekend in what will surely be an exciting home contest.
Ferris State opened up their home play last weekend when they faced the Huskies of Michigan Tech. In the first matchup of the weekend, the Huskies put the Bulldogs away early, scoring four goals before the Bulldogs could notch one, ultimately cementing a 5-1 Husky victory.
The next night sang a different song for the boys in crimson, as the Bulldogs gained their first victory of the season when they scored two goals in the second period and one in the third to bring them to a 3-2 home win.
The Bulldogs now hold a 1-2-1 record overall and a 1-1 conference record. In what will be the first time the Badgers will ever make a trip to Big Rapids, the Bulldogs will host Wisco sin in a two-game weekend se- ries this weekend. Last season, the Dawgs tied one and lost one to the Badgers when they made the trip to Wisconsin for a weekend series.
The Bulldog in goal, junior Charles Williams, stressed the importance of being able to play a big-name team like Wisconsin at home in Ewigleben.
"The crowd plays a big factor in a game. I can definitely feed off of their energy and it's nice to have that kind of support when you're out there. They're almost like the seventh man," said Williams. "I try to stay as calm as possible whether we're playing at home or on the road, but it's definitely an advantage when other teams come to play at our house."
Captain Kyle Schempp is a junior Bulldog who also knows the importance of taking on a team like Wisconsin at home.
"I think when we went there last year, we weren't all that satisfied with how we played so I think that motivates us more than anything," said Schempp.
"The Dawg Pound and community give us tremendous support that everyone appreciates. We want to come out and perform well for them."
Ferris State head coach Bob Daniels is confident in his team this year and knows that he has a group of guys who are going to give their all every time they step out on the ice. He stressed the fact that his Bulldog squad has great leadership and is prepared for the upcoming Wisconsin challenges and beyond.
Daniels said, "I like where our team is right now. I really feel that as the season unfolds and we get further and further down the road that we're going to be a real good team, and a team that can certainly contend for a top spot in our conference."
"Our next few weekends are going to be some really good tests for us early in the year," said Daniels. "It's not as though we're going to be able to ease into this, we're going off the ten foot diving board right in the beginning, but we're excited about that and we're looking forward to it."
The puck drops once again here in Big Rapids at 7:07 pm both on Friday, Oct. 23 and Saturday, Oct. 24 in Ewigleben Ice Arena.