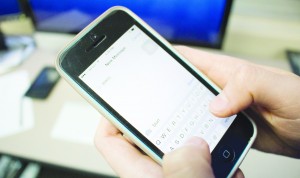 The campus tragedies that have occurred over the past few weeks at Northern Arizona University, Texas Southern University and Umpqua Community College in Oregon have, once again, brought mental health issues to the forefront of the nation's consciousness.
These large-scale, horrific incidents – while still rare, receive a lot of media attention. Unfortunately, they only tell part of the story. The reality is that there are many mental health stories, in every community, sometimes very close to home.
The majority of people struggling with mental health issues do not resort to violence, and instead are more likely to have acts of violence happen against them.
Mental health can be one of the most difficult topics to bring up, but it's also one of the most important.
Given that one in four Americans struggles with mental health issues and three-fourths of all such problems arise between the ages of 14 and 24, it's crucial that young people know they're not alone, learn to talk openly about mental health and seek help as early as possible.
Some warning signs that may indicate a young person needs help include frequent sadness; changes in mood, behavior and eating and sleeping patterns; not wanting to go to school or work; fighting with family and friends; drug and alcohol abuse and feelings of hopelessness, anger or confusion.
When teens and young adults learn to recognize these signs and have the tools to address mental health challenges, they can step up, contribute to the conversation and ultimately, help formulate community solutions to issues of mental health diagnosis and treatment.
With this in mind, the National Institute for Civil Discourse is launching the national Text, Talk, Act mental health awareness campaign, with text-message enabled community events going on throughout the months of October and November.
These events are designed to reach young people right where they live, through the use of mobile technology and social media. The events, which will be occurring across the country, encourage candid, face-to-face discussions on mental health to reduce isolation and misunderstanding and teach teens and young adults how to get and give help when necessary.
Here's how Text, Talk, Act works: Participants gather at any time throughout the months of October or November, in small groups (3-4 people), with one cell phone per group. They text the word "START" to the number 89800 and receive a series of text messages that guide the group through a 45-minute conversation on mental health. The text messages provide prompts about topics such as why talking about mental health is important and how to help a friend in need.
The messages include videos, social media interactions and a series of questions, some of which invite participants to text in ideas on how individuals and communities can improve mental health. Participants' submitted ideas are visible in real time to all other participants around the country.
As the conversation comes to a close, participants receive links to resources to continue the conversation and/or seek help.
Previous participants have said Text, Talk, Act events helped them better understand mental health and left them feeling more comfortable talking about mental health. We learned that when given a safe forum, young people are eager to join the conversation and become committed to being part of the solution.
So let's make a resolution to talk to each other. Let's commit to learning the warning signs and starting the conversation when a young person needs help. As a community, let's learn our needs, find out about recovery resources and explore ways to improve and augment our resources.
Come to one of our events or organize your own. Organizers of Text, Talk, Act events can win $1,000 prizes for their schools or community organizations and the campaign provides all the materials needed to organize an event.
To find an event in your area, sign up for the contest, get materials for your own event or learn more about mental health, visit [http://creatingcommunitysolutions.org/texttalkact].