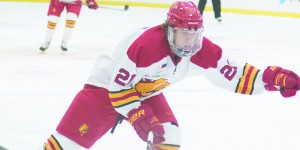 Last Saturday, Oct. 17, the Ferris State hockey team picked up their first win of the season against Michigan Tech.
A big contributor to the Ferris win was freshman forward Corey Mackin, and that's why he's this week's top dawg.
In the 3-2 win against Michigan Tech, Mackin scored his first goal of the season on a 5-on-3 to tie the Bulldogs with the Huskies at 1-1. The 5-foot-8-inch, 166 pound forward from Philadelphia, Pa. added his first assist of the season on a Tyler Andrew goal in the third period.
Mackin may be a little undersized, but it is apparent that he creates a tough matchup for opposing defenses with his good hands and skating abilities.
Before coming to Ferris State, Mackin played for the Coquitlam Express of the British Columbia Hockey League (BCHL). In his time for the Express, Mackin lead entire BCHL with 50 goals and 54 assists to combine for 104 points in just 58 games during the 2014-2015 season.
Mackin and the Bulldogs will take to the ice again next weekend against the Wisconsin Badgers this weekend. The puck will drop at 7:07 p.m. on Friday, Oct. 23 and Saturday, Oct. 24 in Big Rapids.