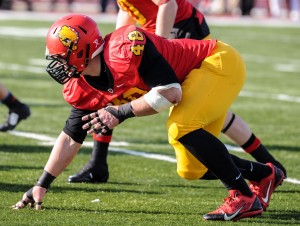 The Ferris State football team had a tough time getting the offense going against Michigan Tech last Saturday.
The defense stepped up for the Dawgs to fill the void, only allowing 14 points against the No. 17 ranked Huskies. If it wasn't for FSU senior Justin Zimmer, Michigan Tech may have scored a touchdown or two more.
Zimmer, a 6-foot-3, 292-pound defensive tackle from Greenville put up an unbelievable stat line in last Saturday's game. On a wet and windy day, Zimmer compiled an unreal 19 tackles, seven of which were solo and 12 of which he was assisted on.
Zimmer had 2.5 sacks in the game, as well as six tackles for a loss, which were both team highs. Zimmer also lead the team in pass break-ups with two, a stat that typically is dominated by defensive backs.
But wait, there's more! As if he didn't do enough for the Bulldogs against Tech, Zimmer also forced two fumbles in the game, but unfortunately neither were recovered by Ferris State.
Zimmer was also named the Great Lakes Intercollegiate Athletic Conference defensive player of the week for this performance.
He will take the field against GLIAC foe Lake Erie at 1 p.m. Saturday, Oct. 31 in Painesville, Ohio.