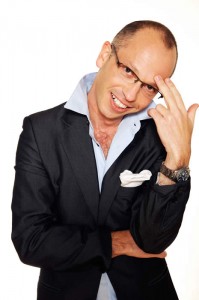 Daniel Packard's mission in life is to make people laugh.
What better to laugh about than other people's frustrations?
Ferris students can air their sexual grievances at Packard's Five-Star event on Monday, Nov. 9.
Using cell phones to his advantage, Packard will be using a combination of stand-up comedy, live polling and communication technology to answer any questions the audience has about their love lives, hook ups or anything about their partner in general they might be embarrassed to ask.
Any attendee can have a question answered anonymously from the audience, potentially providing a good laugh for other attendees while getting their question answered.
"The show should have a good mix of humor and education," said Ferris applied mathematics and computer science senior Josh Moscatello. "I'm going to the event, and am excited to see how the students react to it and what they take away from the event."
"You know why we like to hear 'Yes! Yes! Yes!' when we're in bed? It's for all the other times we've heard 'No! No! No!'" said Packard in a promotional video on his presentations. "This isn't about sex, this is about the politics in sex that sometimes get in the way of love."
It's hinted in the video that women will often go to other women when they have questions about men, vice versa for men about women, and going to friends instead of the partner directly in all romantic relationships. Packard hopes to address the miscommunication and other issues that can create a barrier between two partners in a relationship.
The Live Group Sex Therapy web page says, "Women love the show because they learn helpful information most men will never tell them. Men love the show because they get insight into the way women think. The result for both is more self-confidence and the tools for a more successful relationship."
Five Star Event Information
Date: Mon., Nov. 9
Time: 7 p.m.
Place: UC Ballroom
Cost: FREE