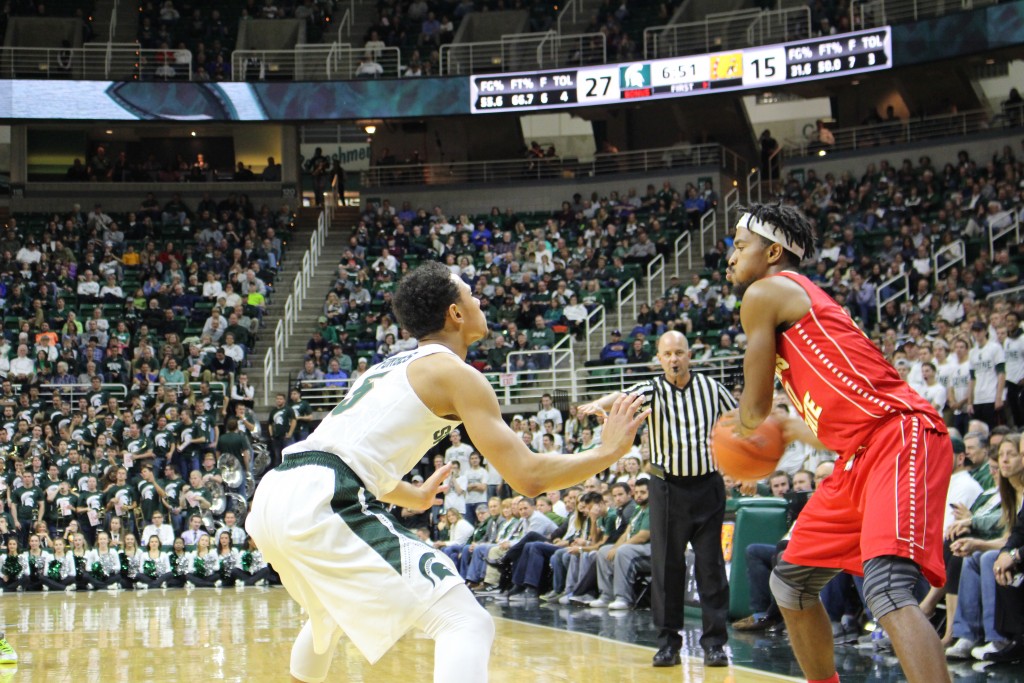 The Ferris State men's and women's basketball teams will both be facing different challenges as they begin their regular season this Saturday.
Men's basketball is going to have to rely on different scoring options because their leading scorer last year, Drew Lehman, graduated last year. Lehman averaged 18.3 points, 3.6 assists, and 3.8 rebounds per game for the Bulldogs last season.
This past week the Bulldogs took on Central Michigan University (CMU) and Michigan State University (MSU) in exhibition matches to get an idea on how they've progressed, and what they need to work on before the season starts next week.
Sophomore Noah King talked about the exhibition games and how the Dawgs get the team ready for the season. "The exhibition games have helped to get a feel for my teammates and give us a chance to see what each of our tendencies are against the opposing teams. It's great that we get to play a couple D1 schools in CMU and MSU to start the season," King said.
The Bulldogs will be heading to Indiana next weekend to start off the season with games against Missouri-St. Louis and Quincy University in Allendale. "I am very excited for the start of the season and I feel that this team can accomplish a lot this year. We just have to continue to get better each day and grow into our roles on the team," King said.
FSU redshirt freshman Zach Hankins said, "I feel like my role has increased and people look for me to produce a little. It's really exciting to be back on the court."
Hankins will be playing in his first collegiate game on Saturday. "I feel like the [exhibition] games are getting me ready to compete under pressure in the regular season," Hankins said.
As the men's basketball team heads to Allendale on Nov. 14 and 15, the Lady Bulldogs will be heading to Nashville, Tennessee for the Trevecca Nazarene Pops Duncan Classic. They will play against Kentucky Wesleyan on Nov. 13 and Trevecca Nazarene the following day.
The women's team just had a scrimmage against Hope College and an exhibition game against University of Michigan-Ann Arbor this past Sunday.
The Lady Bulldogs' head coach Kendra Faustin said, "A scrimmage is just a great way to prepare because it's a little more free and it's just a learning process and it was obvious through our scrimmage the things what we need to work on. That's the whole purpose of scrimmaging especially a good scrimmage against Hope."
This is the first year under Coach Kendra Faustin and she has stressed that these players are catching on quickly. "It's scary when there is a coaching change. It's a big deal when you are a player and the way that our players have handled this transition in a positive way is really a testament to their character and we couldn't have asked for a better group to make this transition with," Faustin said.
Senior guard Katie Mavis said, "I can't say enough good things about Coach Faustin. She's exactly what this program needed. She is passionate and knowledgeable about the game and wants us to be successful as basketball players and as young women. She has really helped me not just with my basketball skills but as a leader as well," Mavis said.
Coach Faustin also talked about Mavis and her impact on the team. "It really starts with her, she's clearly our leader and she said, 'I want to have a great senior year and I know the way to do that is to continue to learn and make sure we stay positive.' That's what she's done and that's what she's communicated to the team," Faustin said.