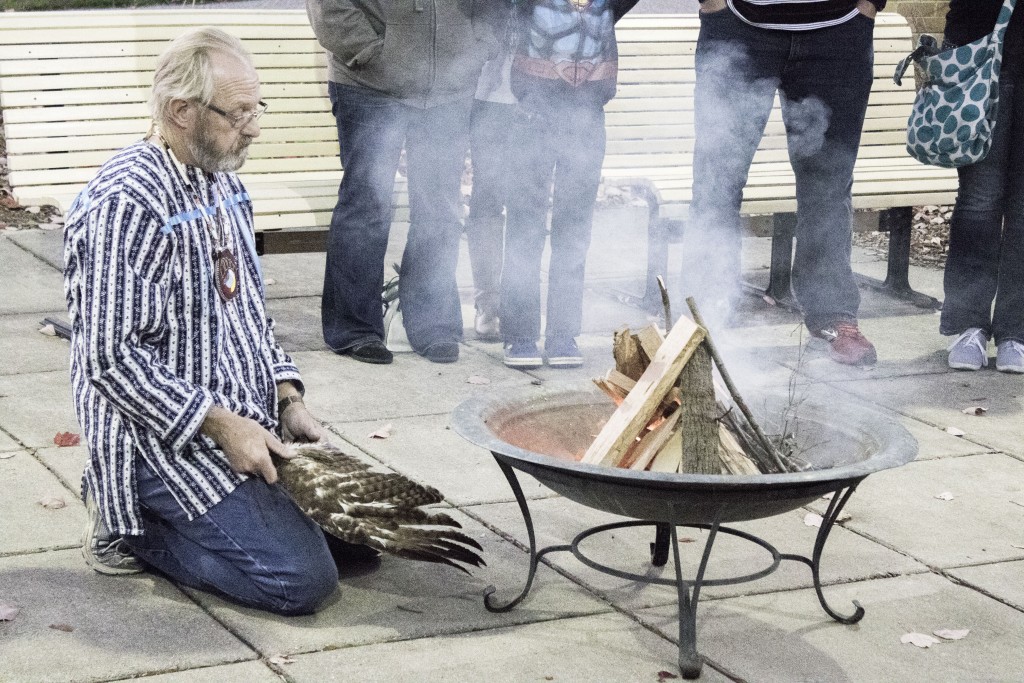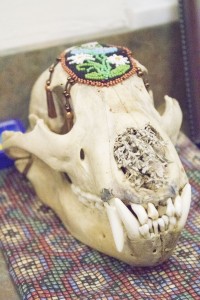 Ferris students recently feasted with a ritual comprised of drumming, fire, symbolic sacrifices and remembrance to celebrate the lives of their loved ones.
The Office of Multicultural Student Services (OMSS) and the Circle of Tribal Nations joined forces last week in an effort to honor deceased loved ones through a feasting ritual called Ghost Supper.  Bill and Nancy Fuchs, Great Lakes tribal experts, guided participants through the ritual which included creating a fire, sacrificing tobacco, eating meals and playing traditional drums. Attendees' late loved ones' favorite foods were brought and included a venison dish, lasagna and cornbread.
"The mourning part is over," said Bill Fuchs. "The Ghost Supper is a celebration of life."
Ferris forensic biology senior Alex Costa saw a poster for the event and decided to attend.
"It's so interesting," Costa said. "I like learning about the culture and seeing this type of social gathering."
Ferris professor of botany, plant propagation, microbial ecology, integrated ecology, non-major's biology and faculty advisor for the Circle of Tribal Nations, Scott Herron, explained the importance of the Ghost Supper in the Great Lakes area.
"The ability for Ferris to host something that has been happening for one hundred, two hundred years in Michigan's communities this time of year meant that we were able to do something to allow tribal students at this university to feel welcome and comfortable so that they can experience what they would have at their own community here," Herron said. "To allow people to see how fire plays into the culture and how music functions today as opposed to what people think it is, really means we could educate those who came to a little glimpse of tribal culture."
The Ghost Supper was the first of three events organized by OMSS and the Circle of Tribal Nations for November, which is Native American Heritage Month.
On Thursday, Nov. 12, Steven Naganashe Perry of Little Traverse Bay Band of Odawa Indians and the Pine family of Garden River Ojibwe Reserve in Ontario, will be facilitating two birch bark workshops in the Science Building, room 231.
On Monday, Nov. 23, a meal and presentation to share Thanksgiving teachings from the Native American perspective will take place from 5-8 p.m. in the University Center. Lee Sprague, a former Tribal Council member of the Little River Band of Ottawa Indians will be a guest speaker. Students who are not able to go home for Thanksgiving are encouraged to attend and experience Thanksgiving in a new way.
Students interested in joining the Circle of Tribal Nations are encouraged to attend a meeting. Meetings are held every Friday from noon to 1:30 p.m. in IRC131.