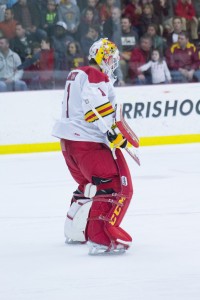 For years, CJ Motte was the man between the posts for Ferris State, but after his departure last season, two new goalies are fighting to fill the void for Bulldog hockey.
Throughout the 2015-2016 campaign, Ferris State has been back and forth between junior goaltender Charles Williams and freshman goalie Darren Smith.
Williams began the year as the starter but was pulled in favor of Smith during consecutive Friday games against No. 2 in-conference Michigan Tech on Oct. 16 and Wisconsin on Oct. 23. Williams allowed four goals through the first two periods against Michigan Tech while allowing that many goals in just the second period against Wisconsin.
Smith started each Saturday game that followed earning wins in both.
Williams said, "That's just how it went. The coaching staff made the decision to get pulled."
Smith has started four of the last five games and has an overall record of 3-1-1 compared to Williams with 1-3-1. One of Smith's wins came against No. 1 in-conference Minnesota State on Nov. 6. It was the first time Ferris has beaten Minnesota State since joining the Western Collegiate Hockey Association (WCHA).
On the year, Smith has a save percentage of .925 compared to Williams' .893.
Dave Cencer is the strength and conditioning coach as well as the goalie coach for the Bulldogs. Cencer, head coach Bob Daniels and the rest of the coaching staff make a collective decision each game on who the starter is.
Cencer said, "We deal with that as an entire coaching staff. We go with the guy that we think has the best chance to win. There's things at practice that other people don't see. Charles has been excellent in practice and has a pedigree where he's been on some really good teams here and been a big part of that. At this point, we don't have one guy that's ahead of the other. They have different skill sets. We're going to continue to give them both opportunities to play."
Charles Williams has been behind CJ Motte the past couple years and finally had his opportunity to start this year.
"I learned a lot behind CJ. I didn't get to play much last year but I'm glad to be out there," said Williams.
Williams was injured most of last year and could not play. He did see limited action and played a big role when he did.
Cencer said, "Charles wasn't medically cleared to play most of last year. If he had been healthy from day one, it would have been a different situation in terms of him and CJ splitting action more evenly. Believe it or not we felt that highly of Charles. He was crucial in the second half of the season."
Williams says that there is no goalie controversy.
"I have faith in the coaching staff. They're going to do what's best for the team. There is no controversy. Whoever coach tells to go out there will be ready," said Williams.
Darren Smith is a freshman but has plenty of experience in the United States Hockey League (USHL) as a goalie for the Madison Capitols where he won multiple goalie of the week awards.
Smith and Williams have different styles but the Cencer says there is little separation between the two athletes.
Cencer said, "Darren is more of a blocker goaltender. He's a bigger body. He has a natural sense of footwork that's involved in goaltending and the technical movements. He gets himself in the right position and the puck seems to just find him. He makes it look easy at times. Charles is a guy that relies on his athleticism and his amazing reaction."
Senior defender Simon Denis said, "Darren just seems to always be in position and doesn't have to move as much whereas Charles is crazy athletic and makes incredible saves."
Ferris hockey has an overall record of 4-4-2 with plenty of season left. They are currently No. 4 in the WCHA and have wins over the No. 1 and No. 2 ranked teams in the conference. Moving forward, they have a goalie tandem that is attempting to lead the Bulldogs to another deep run into the WCHA playoffs.
Cencer said, "CJ was once a freshman with little experience fighting for a spot and that's where these guys are at. We have two goalies that don't have the game experience so they're going through the same learning process. Yeah, we have two goalies, but that's a great problem to have. Both Charles and Darren can play at this level and we expect them both to play huge roles."
The Bulldogs will be in action next on Friday, Nov. 13 and Saturday, Nov. 14 as they take on Alaska Anchorage in Anchorage, Alaska. According to Cencer, the starter in goal will be determined game to game.