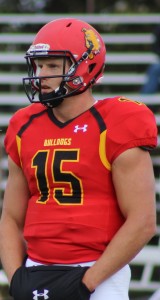 This guy has been on fire and is definitely ending his college career in tremendous fashion.
Jason Vander Laan, a Frankfort, Illinois native and Chicago Christian High School graduate, has been unstoppable this year. Vander Laan had another stellar game as he ran for 175 yards and completed 15-of-20 passes for 197 yards while scoring five touchdowns in FSU's victory over Northern Michigan.
Vander Laan won the Harlon Hill trophy last year and is a candidate again this year that is proving why he was voted the National Player of the Year in preseason polls. The Harlon Hill candidate has broken two NCAA records this season, breaking his second last weekend.
He became the leader in rushing touchdowns by a quarterback in Div. II after scoring four rushing touchdowns against NMU. His 75 career rush TDs were enough to move him past former record holder Shawn Graves who had a career 72 rushing scores.
The Bulldogs are 9-0 and are looking to finish the season undefeated once again. Ferris will play in their last regular season game against Walsh at noon on Saturday, Nov. 14 in Big Rapids.