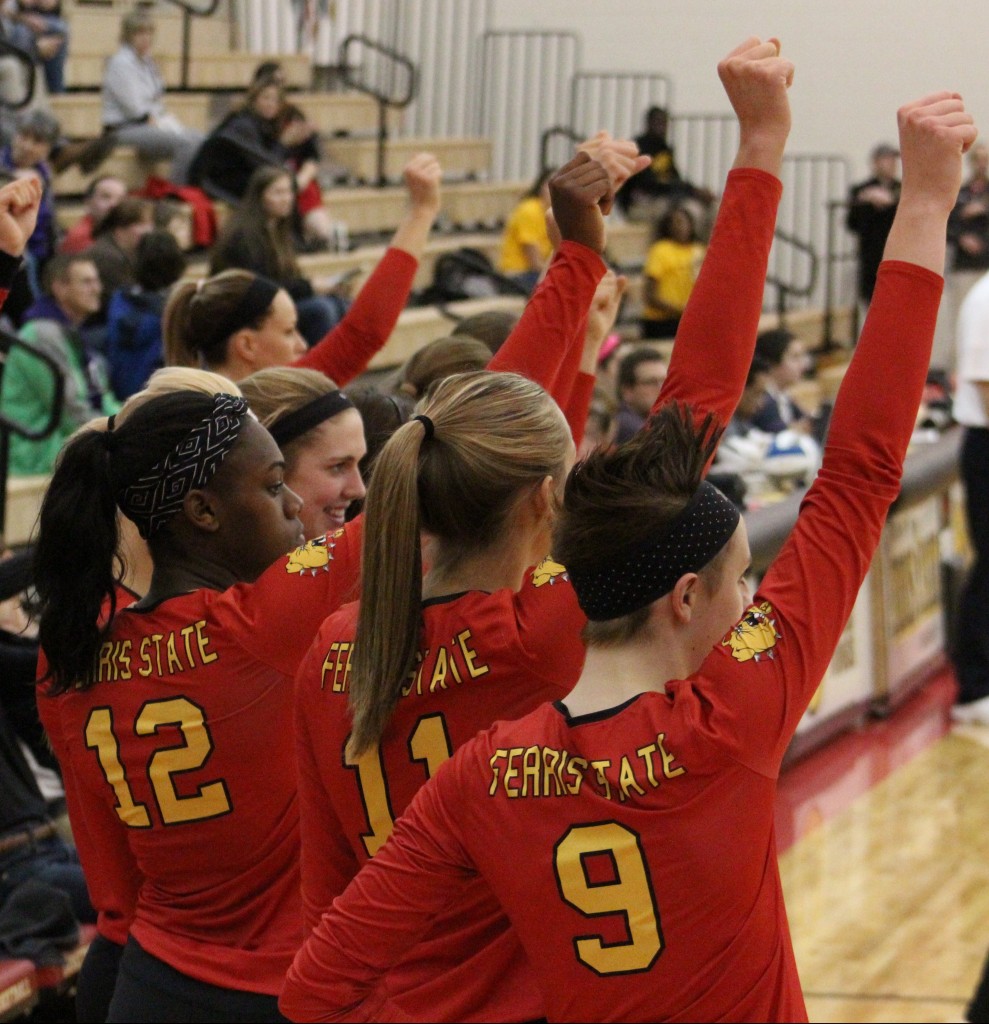 The Bulldogs got off to a slow start in the first set, but when senior outside hitter Vander Meer's spike hit the floor to knot the game at 7-7, it marked the beginning of the end for the Oilers.
Findlay came roaring out of the gate, scoring the first five points of the first set before the Bulldogs could find an answer. Their answer came in the form of junior setter Stephanie Sikorski, who supported a balanced Bulldog attack with 10 assists in the first set alone. Sikorski would go on to rack up 43 assists through the rest of the match, and Ferris would go on to take the first set 25-18.
The second set saw a different story, as an offensive leader emerged for the Dawgs in Vander Meer who would eventually account for 15 kills on the night. Ferris ran away with the lead to take the second set 25-12.
A humbling third set saw a back and forth battle that ended in Findlay's favor 25-20. The setback seemed to take some wind out of the FSU sails, as the following set was also tightly contested.
The fourth set proved to be a war, as neither team was able to gain much ground against the other. Eventually the Bulldogs were knocking with a 24-23 lead, and with the crowd on their feet Vander Meer landed her second momentous spike of the night, this time to seal the victory.
Senior libero Danielle Dowd and senior outside hitter Alexis Huntey helped keep the Dawgs alive with 20 and 16 digs respectively. Sophomore outside hitter Ayanna Buckley tallied 12 total kills and junior outside hitter and serving specialist Kaley Konjarevich earned three aces on serves to keep up the offensive attack.
The win tonight stretches the Bulldogs' flawless home record this season to 18-0 and advances them one step closer to a regional championship.
The Dawgs will be in Wink Arena once again tomorrow, Dec. 5 at 5 p.m. to take on the winner of tonight's Rockhurst vs. Lewis matchup in the regional final of the NCAA Div. 2 Playoffs.
Click here to read up on the Bulldogs' playoff journey so far