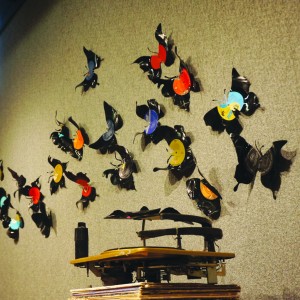 Festival of the Arts has been a major highlight for the city of Big Rapids for almost a decade. The month-long series features events such as music, art, dance, film and literature, with the intent to celebrate creation. The program is created through Big Rapids and Ferris State University collaborations, from planning to design to performance. Each year draws in thousands of community members, students and non-Big Rapids residents looking to enrich their week with artistic entertainment.
As described in the Festival of the Arts pamphlet, the "primary goal of the Festival is twofold: one, use the arts to build bridges between the south end of Michigan Avenue, Ferris State University and the north end of Michigan avenue; and two, bring arts in many forms every day for the month of February at no cost to attendees." The piece goes on to explain that funding is provided by Ferris, the City of Big Rapids, the Downtown Development Association, the Downtown Business Association and various grants and advertising.
"One of the things we try to do is balance the things people know they like with the things they've never been exposed to before," said Festival founder and chairman Bruce Dilg. Dilg was formerly a professor of architectural technology at Ferris. "We're all subconsciously involved in art every day and if our events can help expose people to things they'd never considered, that's why we do this."
Each year provides a different cornucopia of artistry. The 2016 lineup includes themes such as architecture, floral, industrial, culinary, textile, literary, ceramic, dance, design, theatrical, visual and cultural events. Every day in February is designed to bring a new creative experience to those who attend.
The Festival opened with a gallery reception called the "Indie Incubator: All About the Vinyl." It was exhibited in the University Center on Friday, Jan. 29 and featured works of photography, graphic design, drawing and plastics, as well as a display of historical vinyl albums. The reception was themed on music through history and its transcendence through societal barriers. Ferris and Kendall visual art students turned vinyl records into tangible art pieces to display. Refreshments and food were offered throughout the night as guests perused the art.
During the exhibition, a keynote presentation was given by Smithsonian sales and marketing specialist Laura Dion. Dion presented "The Preservation of Art and Heritage by Smithsonian Folkways Records." She discussed the process in which the Smithsonian preserves historical music and sounds through careful processing and reproduction.
"I am beyond impressed with the opportunities that the program brings to the students and community as a whole," said Dion of the Festival during her keynote.
Festival of the Arts spans the month of February until its conclusion on Monday, Feb. 29. All of the events during the Festival are free and open to the public.
The Festival of Arts is a long-standing tradition in Big Rapids. Click here to read about the 2013 Festival of the Arts.