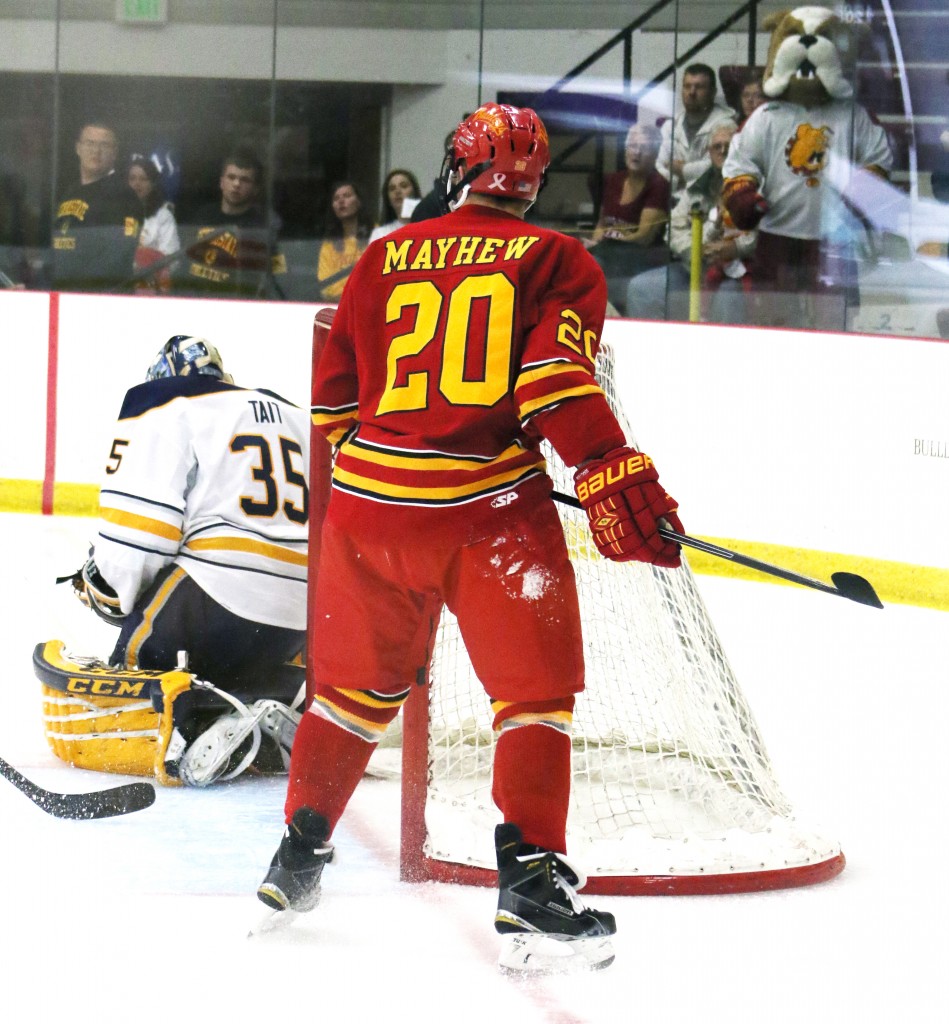 In a weekend full of great Bulldog hockey, it is not easy to choose a clear standout, but junior forward Gerald Mayhew pulls away with Top Dawg honors this week.
Ferris State hockey made the long trip to Alaska last weekend to take on the University of Alaska Nanooks.  Now 28 games into the season, the Bulldogs finally brought in their first weekend sweep of the season, taking it to the Nanooks 4-0 on Friday, Feb. 5 and then netting an overtime win on Saturday, Feb. 6, 2-1.
Four different Dawgs found the back of the net for the Dawgs in Friday's game, including Mayhew, but what sealed his spot as Top Dawg this week was Mayhew's overtime goal only 14 seconds into the extra period.
With two goals this weekend, Mayhew, the 5-foot-10 Wyandotte native now has seven goals so far on the season, only trailing freshman forward Corey Mackin who has eight.  Mayhew is also tied for the most games played so far this season, proving that he is a staple on the ice for Ferris State.
Mayhew's lightning fast overtime goal gave Bulldog hockey their third overtime win of the season, already on pace to beat last year's total OT victories of four.  Though he holds seven goals so far, only two of those have come at home.
With only seven games left to play in the 2015-2016 regular season, Mayhew is certain to play a big role in the team's immediate future.  Of those seven regular season games left to play, four will be at home in the presence of the Dawg Pound.  The Dawgs currently hold a 5-3-5 home record with a 7-5-1 away record.
Ferris State hockey will host Northern Michigan in a weekend series starting Friday, Feb. 12 at 7:07 p.m. followed by a rematch the following night at the same time.
Check out last week's Top Dawg here.