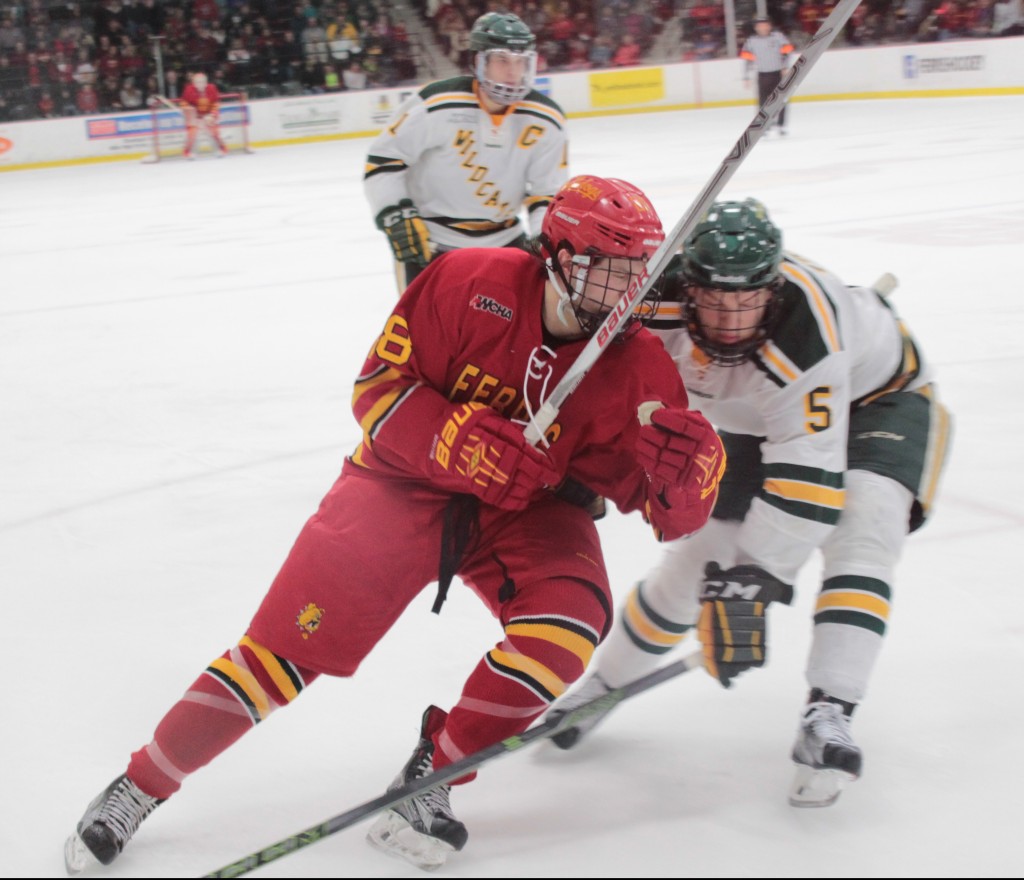 The Dawgs will be spending their Valentine's Day licking their wounds after their hopes of sweeping Northern Michigan out of Ewigleben Arena were dashed in Saturday's physical 3-2 loss.
Much like the previous night's contest, the first period of Saturday's game ended scoreless. The shot totals were nearly even, as Ferris held the slight edge with 10 to NMU's 8, and the hits were hard and plentiful throughout the game.
The action began to heat up in the second period, when Ferris junior right wing Gerald Mayhew netted the first goal of the night. Mayhew received a helping hand from junior left wing Kyle Schempp and senior defenseman Brandon Anselmini.
The Bulldogs would net the next goal as well, when FSU's junior right wing Chad McDonald took advantage of a power play with the help of Mayhew and freshman left wing Corey Mackin, who both earned assists. Mackie totaled four assists through the weekend series.
NMU's Gerard Hanson would fire back just over a minute later to cut the lead in half, then Northern's Denver Pierce scored a goal of his own in the final seconds of the period to knot it up at 2-2 going into the third.
The third period remained scoreless until the 15:26 mark when NMU's Darren Nowick fired the money shot past FSU freshman goaltender Darren Smith. It was the Wildcats third unanswered goal of the game, which was enough to seal the victory.
Smith finished with just 17 saves on the 20 shots he faced, and despite the Bulldogs' 38 shots, they were only able to sneak two by Wildcat senior Mathias Dahlstrom. McDonald was responsible for nine of the Bulldogs' shots.
Prior to the loss, the Bulldogs had strung together an eight-game undefeated streak that began on Jan.2. They'll be looking to begin a new streak next weekend when they head to Ann Arbor to take on the University of Michigan Wolverines, who currently lead the standings in the Big ten Conference and have lost just four games on the season.
The puck drops on Feb. 19 at 7:35 p.m. in Yost Arena.
Check out the recap of Friday's game here.