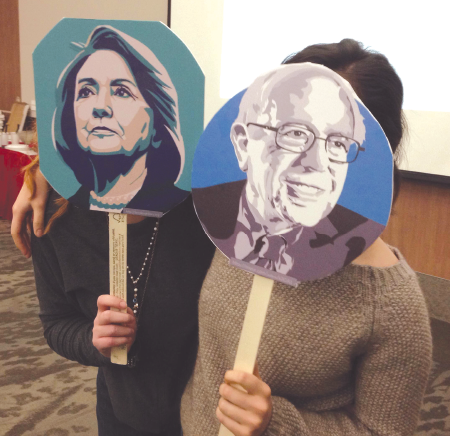 While Hillary Clinton and Bernie Sanders debated for the 2016 presidency in Milwaukee last week, an audience of students watched at Ferris.
The PBS debate was screened in a packed section of the University Center ballroom with pizza, salad, cookies and drinks courtesy of Ferris' Political Engagement Project. Each table had signs with the candidates faces for students to wave when they agreed with something said, as well as bingo cards with keywords such as "Flint water crisis" and "income inequality."
Ferris biology senior Lisa Raney said she used to stay out of politics because they "just seemed really messy," but has recently been keeping up more with the presidential election.
"Hillary Clinton was doing a good job answering questions directly at first, but I definitely think Sanders made a comeback towards the end," Raney said. "I like it when politicians actually answer the questions. I think Clinton did a better job with that."
And while Clinton noted that she and Sanders are in "vigorous agreement" on a number of issues facing the U.S., some Ferris students watching the debate couldn't have been more divided.
Students of many different political affiliations watched the debate, some waving signs for Clinton on topics such as women's rights and others for Sanders on immigration reform.
One group in particular didn't have much use for the signs at their table, instead waving their own signs that read "I'm ready for freedom, not free stuff," and "I don't need government to succeed."
"I'm not in support of either one at this point," Ferris political economy junior Justin Austin said. "They're both very entrenched in the idea that regulation is the way to go. That being said, I can't support either of them."
Ferris criminal justice junior Marc Jaruzel enjoyed Sanders' performance at the debate and didn't mince words when asked who he'll be voting for.
"Definitely not Clinton. I'm voting for Sanders," he said. "I don't vote for criminals."
Ferris healthcare administration senior Chris Cipko was also clear about who he won't be voting for.
"Regardless of which one is the democratic nominee, I'll probably vote for them," Cipko said. "That would be a better choice than voting for one of the Republicans."
Cipko also said Sanders and Clinton might make good running mates.
There was also a viewing party for the most recent republican debate, read it here.