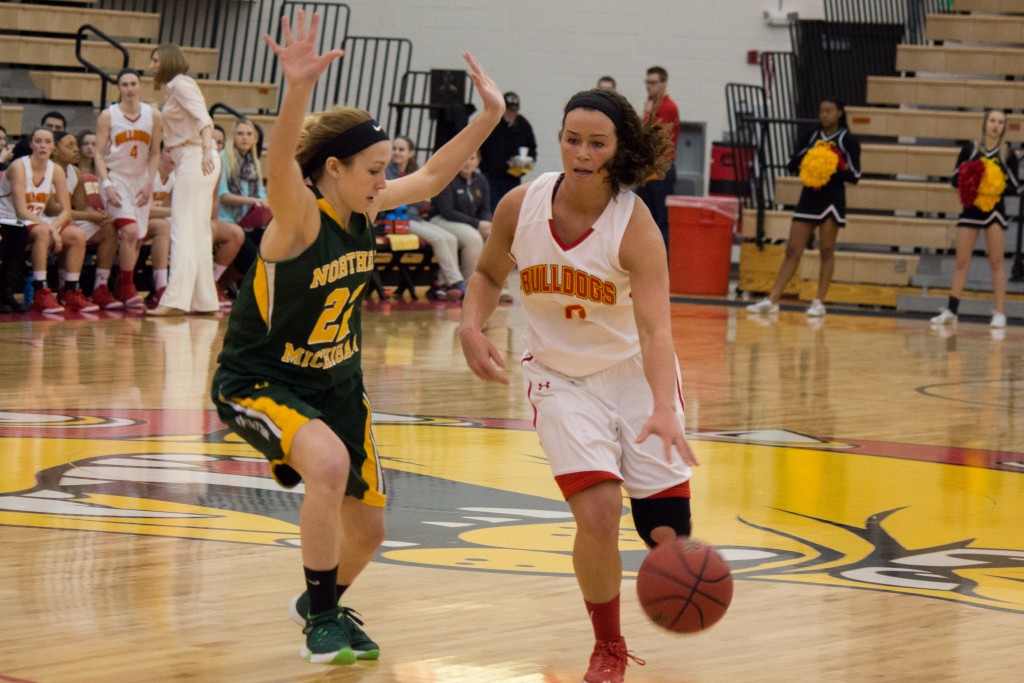 Katie Mavis has ended her five-year basketball career with a season scarred with adversity but mended with a bond of sisterhood.
The forward out of St. Joseph has been the lone consistent face in the Ferris women's basketball program the last five years.
Head coach Kendra Faustin said, "Katie is the heart of our team. She was instrumental in keeping the 'Bulldog pride' in our program regardless of numerous coaching changes throughout her career."
Mavis started her career in the 2011-12 season. That year, the Bulldogs went 23-7 and played in the GLIAC Championship game. The next year they went 13-13 and lost in the first round of the GLIAC tournament. Ferris went 21-28 over the next two years.
In the beginning of the 2015-16 season, it appeared that this year would be as shaky as it ultimately turned out to be. Ferris hired the third coach of Mavis' tenure and tragedy struck in the lives of the women on the team.
Junior guard Emily Evans' mother, Janice Evans, used to be a frequent sighting at home games, but her seat was vacant this year. Near the start of the season, Evans' mother passed away.
Mavis said, "Her mom was like a second mom to all of us. It was really shocking. It was just hard."
Mavis contemplated leaving the team like some of her classmates had, but she stuck through the season. The Bulldogs went 5-23.
Mavis said, "Despite everything that we went through, I couldn't have asked for a better team to spend this last year with. I couldn't have asked for a better coach. With everything that happened, this team stuck together and made this last year really memorable."
The highlight of the season was Ferris knocking off No. 1 in-conference Saginaw Valley on Saturday, Jan. 30. Evans caught a pass 15 feet away from the hoop with the game tied and clock ticking. She pump faked, then shot the ball at the buzzer. The crowd roared with 57-55 gleaming on the scoreboard
Mavis said, "When Emily hit that shot the whole place was electric. There's no one else that deserved that shot more than her."
Now that basketball is over, Mavis is pursuing a career in television production, particularly sports documentaries. She has applied for multiple internships that include ESPN and NFL Films. She considers those her dream jobs.
In her five years, Mavis experienced a lot and has advice for women coming into Ferris women's basketball.
"I would tell them that it goes by so fast and to really commit yourself–challenge yourself. Just give it everything you have," she said. "I'd tell them to cherish every moment they have on the court with the girls. They'll be sisters forever."
This sisterhood, this bond—it made Mavis' time at Ferris unforgettable.
She said, "Those girls made this year special. I'll never forget my time here, and if I could go back, I wouldn't change a thing."
To read Katie Mavis' Top Dawg spot, click here.