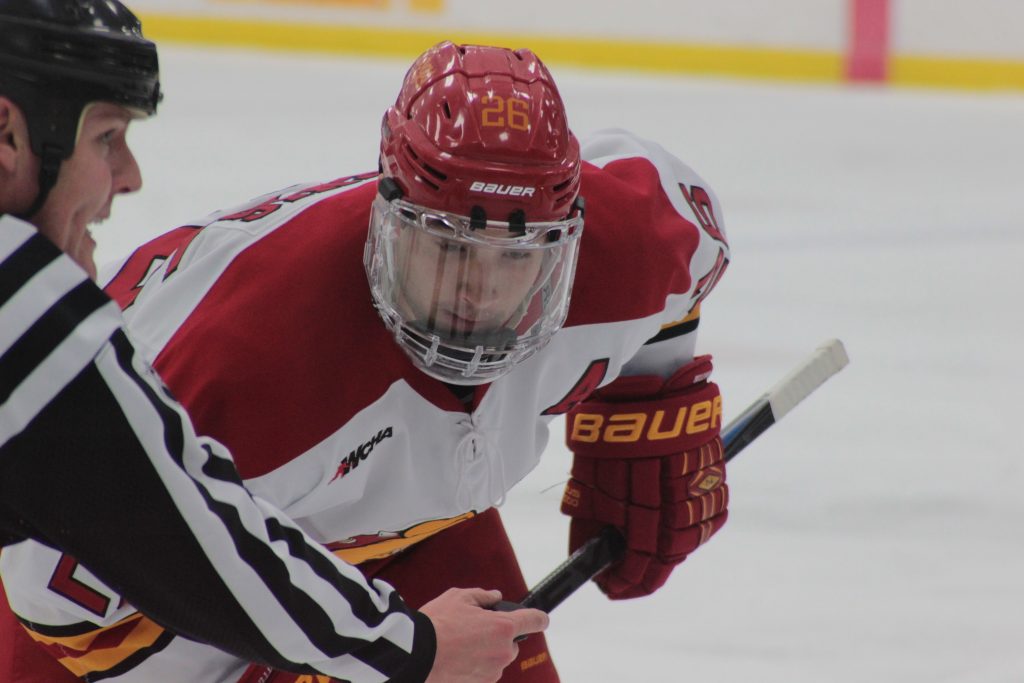 Five years. It may be hard to believe, but five years has gone by incredibly fast.
I can still remember my official visit to campus back in November of 2010 like it was yesterday—getting to meet some of the players, the coaching staff including head coach Bob Daniels, some members of the faculty, all individuals that I would soon come to know extremely well.
I still remember the feeling I had when Coach Daniels asked if I would accept their offer to become a Ferris State Bulldog. All the years of hard work had finally paid off, and I was on cloud nine. In the moment, all I could think was that I did it, I reached my goal of being recruited to a hockey team at the Div. 1 level, and I was ready to start my journey. The crazy part is looking back on it now, I would never have imagined the next five years going how they did.
Little ole Ferris State University—ranked as the No. 1 team in college hockey. Ferris State—winning the CCHA regular season championship over the likes of Michigan, Notre Dame, Ohio State and Michigan State. Ferris State—winning the Midwest Regional over powerhouses Denver and Cornell. Ferris State—making it to the National Championship. Are you kidding me? I 100 percent guarantee that if you were to tell any person in the hockey world that statement, outside of the Bulldog faithful, they would think you lost a bet.
Safe to say my first year as a member of this team went just about as well as I could have ever asked for, I mean, other than winning the National Championship. Through my first two years as a Bulldog, we as a team helped grow and put this team in the national college hockey spotlight. We weren't just another team on the schedule, a group in the middle of the pack. We were now the Ferris State Bulldogs, a team competing for a championship every single year.
Just as quick as my junior season began, it ended. Nov. 1, 2013—the night that changed my outlook on hockey and life.
As I went back to the corner to retrieve a dump in from the Alabama Huntsville Charger player, I had an awkward run in with the Huntsville fore checker, went into the corner awkwardly while the opposing player landed on top of my head and caused my body to fold. I lay on the ice motionless for minutes, and all I knew was my neck hurt really, really bad.
I still remember it all, from getting put into a spinal collar, to getting strapped into the stretcher, to asking our team trainer Tim Glover if I could maybe play in a few weeks. Little did I, or anyone, know how bad it truly was.
I remember the doctor coming into my hospital room at around 5 a.m., about nine hours after I had been injured and taken there. After numerous X-rays, MRIs and other medical examinations that I didn't even know the name of, he told me the news that I never thought I'd hear in my life.
"It's a miracle that you're not paralyzed."
Wait, what? Nine hours ago I was playing the game I love, with the teammates that I call brothers, and now I'm laying in a hospital bed, teary eyed, counting my blessings that I can actually still feel my entire body. I was shell shocked.
I had severely injured my fifth and sixth cervical vertebrate in my neck, an injury that would have me wear a neck brace for the next four months, and yes, it sucked. I had surgery on Jan. 2, 2014, placing two screws, a plate and a cadaver bone between the two vertebrate to fuse them together and allow the bone to grow into one large vertebrate. Long story short, I was cleared to play, with full contact in July of 2014, nine months after I suffered my injury. If you were wondering, excited would be the understatement of the century.
Oct. 4th, 2014, Big Rapids, Mich. The Michigan Wolverines had come to town for the season opener, with the Dawg Pound rocking and the Ewigleben Ice Arena as loud as I've ever heard it. We defeated the Wolverines 4-3, and everyone was feeling very good about the win. For me, I was relieved. I did it. I was able to play hockey again.
The 14-15 season had its ups and downs, for the team and me. I had issues with my neck, but nothing compared to what I went through the year before. As much as I hate to admit it, I wasn't playing like the player I was before; I never felt comfortable the entire season. And I felt that way up until this year.
Senior year was upon me; I felt good, ready to play the way I knew I could and I was beyond excited to start. Right from the beginning of training, the upperclassmen had a good feeling about this team. There was just something about our team that had us confident. We had the right group of character, the drive to succeed and a group that would do everything it took to win.
In college hockey, with there being so few games, all you need to do is get hot at the right time in order to be successful.
Then came a sweep at home of Northern Michigan in round one, beating WCHA Regular Season Co-Champs Michigan Tech & Minnesota State in the semis and the finals and just like that we were champions. The first playoff championship in Ferris hockey, and I'm extremely proud to say I was a part of it.
We were headed to our third NCAA tournament in five years and once again as an underdog. We beat St. Cloud 5-4 in OT, a team we had "no business" competing against, but once again—just as Ferris does—we accepted our underdog role, and we did what we always do—compete. Although we fell short in the Elite Eight against Denver, I was so proud of every single one of our guys and all that we had given throughout the year.
Coming to Ferris State was the best decision I have ever made, and I truly have had the best five years of my life. Three championships, three NCAA tournament berths, a national finalist. Five years may have gone by quick, but man was the ride ever fun. So long Ferris State, it's been great.
Go Bulldogs,
Simon Denis