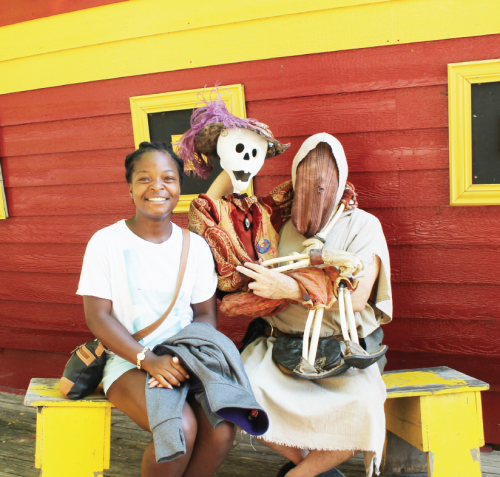 The smell of roasted turkey legs so large it takes two people to finish, fill the air amidst cries of "down with the mayor!" from a mob of angry villagers.
The Michigan Renaissance Festival is an annual event that runs every weekend for seven weeks in Holland. Each weekend is a different theme with different events, but there is always an abundance of food, performances, vendors and people dressed in character.
"It's like a history day, but a fun history day, something that you actually enjoy," said Ferris political science freshman and first time festival-goer, Patience Gwion. "It's not like one of those class trips you take where you look like a tourist. It's a good experience. I probably would have never gone or heard about it before. The food was really good, and it was culturally enriching. Some of the guests even look like they work here because their costumes are so nice."
According to the website, the festival covers 17 acres of land, contains 17 themed stages with continuous entertainment and hosts over 300 artisans.
"I really like the creativity and how much time people put into making them," Gwion said. "I think it's super cool because normally people don't take the time to be crafty or make things."
"It's something different all the time," said festival marketing manager Kim Heidger. "There's something here for everybody."
Jim Peterson, the owner of the festival and former promoter for the Rolling Stones, began the festival in 1979. According to the festivals website, it "regularly attracts more than 250,000 visitors from Michigan, surrounding states and Canada."
The festival performs several jousting tournaments and comedy shows each day, as well as music, theatre and dance. Some weekends one could buy a ticket to have tea with Queen Elizabeth I, and there are various events, face painting, games and rides for children as well. In past years, people have chosen to have legally binding Renaissance weddings on site.
"I think that the show is kind of like going to Disney World," Heidger said. "You get a different experience at every age. When you come as a kid, you look at princesses and fairies. As you get older, you see it in a different light, understand more and enjoy the different comedy shows."
For those who are old enough, there are mature-rated comedy shows, as well as a happy hour and a pub crawl that is held three times each day.
"I loved how interactive it was with the crowd," said Gwion. "I liked the whole time-travel thing, how it took you back in time. It was a new experience for me. I thought it was super cool, it opened my eyes a little more."
"Before I'd actually worked for the Renaissance Festival, I'd only been here one time," said Heidger, now in her fourth season working with the festival. "I really enjoyed myself and was looking for an internship to finish my degree, and I just loved it here."
This year the festival continues until Friday, Oct. 2, and during the closing weekend there is a Shakespeare takeover in honor of the 450th anniversary of his death.
From 6:30 to 10:30 p.m. on Sunday, Sept. 30, there will be a Royal Masquerade Ball which will include a six-course meal, champagne, live entertainment and more.
A special event this year for the third annual Halloween in Hollygrove is the Phantom's Feast. The event description reads, "Wine and dine with the Phantom of the Opera as he reviews your favorite Halloween musicals like 'Rocky Horror Picture Show,' 'Little Shop of Horrors,' 'Young Frankenstein' and many more! Enjoy a five-course gourmet feast, games, prizes and a souvenir goblet! Dress to impress!"
The event is held at 4:30 p.m. Saturdays and Sundays from Oct. 8 to Oct. 30.
Visit michrenfestnew.michrenfest.com for more information.