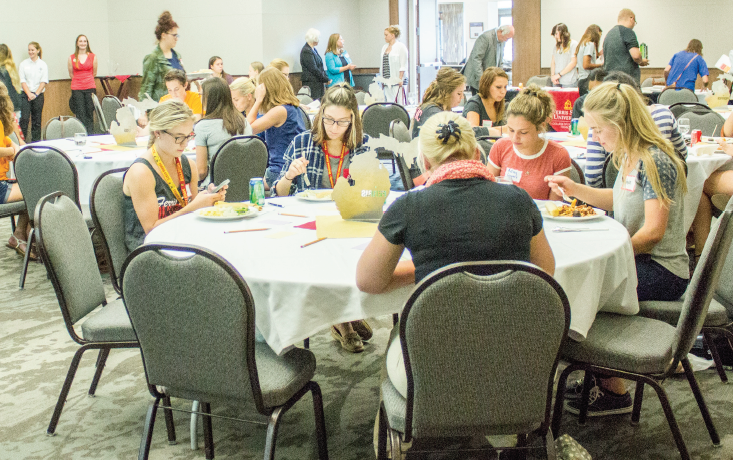 Women entering science, technology, engineering and mathematics studies were invited to a welcome dinner and networking event hosted by the Ferris State University College of Engineering Technology.
Approximately 50 people, primarily young women beginning studies in STEM fields, had dinner together Thursday, Sept. 8, in the University Center. They listened to a panel of female students reflect on the college and program as part of the third annual Welcome Women in Engineering Technology event.
"The objective of this event is to welcome female students who are new to the College of Engineering Technology to campus," said Leigha Compson, the University Career Programs Specialist within Academic Affairs who works with students in the College of Engineering Technology (CET). "We provide dinner, a brief overview of campus resources, a networking activity, and a panel of female students from CET offer their experiences, advice and words of wisdom to the new females."
Ferris began hosting the dinner after a female focus group said they wanted to feel more connected to other female students in their program. Though the event is aimed at new women in the program, everyone in the program were welcome to attend. Joining the women were two male students and a few professors.
"I think it's opening eyes to different ways of thinking and doing business," said Brent Williams, assistant professor of the Ferris welding engineering technology program, chair of diversity for the college. "I think that we need diversity in the workplace so we can have more holistic solutions to problems."
"I have two daughters, so I am very in tune to gender stereotyping. I have seen people say things to my children that I would never say to them. My job is to encourage and promote for those who are interested and opening doors for women that may not have been open before," Williams said.
Graduates of Ferris' College of Engineering Technology have gone on to complete important work in STEM fields.
Quincee Denault earned a Michigan Department of Education Breaking Traditions award for overcoming obstacles and stereotypes to be successful in her career and technical education program. Emily Jungblut is a 2014 Ferris graduate who designed a prosthetic hand for her senior project for an eight-year-old boy born without fingers on his left hand.
"We prepare students who are career ready," said Dan Wanink, Ferris professor of computer-aided design and drafting (CADD) and tool design. "They're going to walk out the door prepared to enter the industry. We give students the confidence and skills needed to enter the work force."
During the introduction segment of the evening, nearly every student said they chose Ferris State University because the College of Engineering Technology is one of the top in the country.
"I'm very passionate about supporting women in fields that they are underrepresented in," Compson said. "They're fields where you can really make a difference in the world and in people's lives. I wish more women realized the potential in these fields and had the confidence to pursue them."
To increase awareness, Compson helps to facilitate community outreach events targeted to young girls in middle and high school who may be interested in math and science. They do hands-on activities and bring current CET students so the girls and parents can hear from real students.
"Events like this help students network and build connections with each other to create a sense of community for women in the CET," Compson said. "Not only do the attendees have an opportunity to interact with fellow students, faculty and staff, but they also learn more about campus resources and ways to get involved at Ferris."
According to Compson, the college now has more women enrolled in it than ever before.
"I think that oftentimes women bring a sense of creativity," Compson said. "They offer a different perspective and bring organization and passion to the field that can really help."
Students who spoke on the panel include Chelsea Porter in the welding engineering program and intern at B&P Manufacturing, Kaylie Bohn from electrical engineering technology and 2016 recipient of the Breaking Traditions Merit Award, Megan Polis from facilities management and intern at Collier County Facilities Management, Julia Tisdale from construction management and intern at Lakewood Construction and Audrey Hesson from the architecture and sustainability program.
"It's hands-on, not just learning from a book," Bohn said, who is in her second year interning with Consumer's Energy. This past summer, Bohn had the opportunity to work in the field installing some of the equipment she had designed the previous summer.
"Not only do you learn new skills but you break barriers that were once set about that career. I see how to solve problems differently than my peers. This new way of thinking affects society as well," Bohn added.
The other students invited to speak praised the progress made by each other and the women in Ferris STEM programs before them.
"You have the opportunity to be more one-on-one," Hesson said. "I've really grown to enjoy that. You have a family. There's always somebody to help you."
Two students interning through different Ferris programs spoke about their experiences.
"I think it's less common to find women in this field," Polis said. "I was the first woman to intern at the place I was at. A lot of it is just we don't have a lot of females interested."
"I was the first woman in my internship," Tisdale said, agreeing with Polis. "Respect is earned; you don't demand it."
Overall, many participating students think Welcome Women in Engineering Technology is a success and want to see it continue to succeed.
"I think tonight's event was outstanding," Wanink said. "I've been part of it since we started and I hope it continues to grow."
A mixer event with female alumni will be held on Monday, Oct. 10, at 6 p.m. in University Center room 202C.
Contact Leigha Compson at leighacompson@nullferris.edu or (231) 591-3549 for more information.