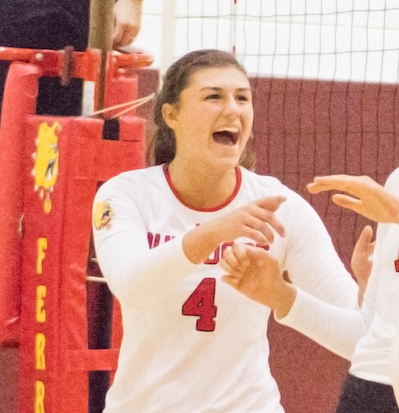 New student athlete Reggie Bell took Top Dawg honors last week with his outstanding performance against Ohio Dominican. This week we move from the field to the court to yet another new face in Ferris State athletics.
Allyson Cappel is a promising freshman for the Ferris State volleyball team. The former high school standout made a name for herself at Lincoln-Way North in Frankfort, Illinois. Cappel compiled an astounding 341 kills with 211 digs, 35 blocks and 35 aces in high school and led her team to a 35-4 record as a senior.
Cappel's dominance seems to have followed her from Illinois to her new home here at FSU as the Bulldogs faced nationally ranked Washburn at the "Bash at the Beach" in West Palm Beach, Florida. Friday Sept. 9. All of the Bulldog players were in sync as they posted a team total of 61 kills, 96 digs and nine blocks. Cappel, however, was the star of the match, recording a match-high 19 kills and 16 digs as Ferris knocked off Washburn after 5 sets.
Cappel continued to shine in the second match of the day as the Bulldogs dropped a hard fought match against Palm Beach Atlantic after 3 sets. Cappel led the Bulldogs in that match with 11 kills to finish with 30 kills on the day.
The second day of the "Bash at the Beach" played out nicely for the Bulldogs as they defeated Florida Tech and McKendree University. Cappel led the Bulldogs on Saturday, Sept. 10, as well, posting 18 kills and 21 digs on the day.
Transitioning from high school athletics to playing at the college level can be a challenge for freshman but Allyson Cappel seems to have prepared herself well. If these matches are any indication of what she can do, Ferris State volleyball has a bright future ahead.
Cappel and the Bulldog volleyball team with travel back to Michigan where they will play the Northwood Timberwolves in Midland. The match will take place Friday, Sept. 16, at 7 p.m.