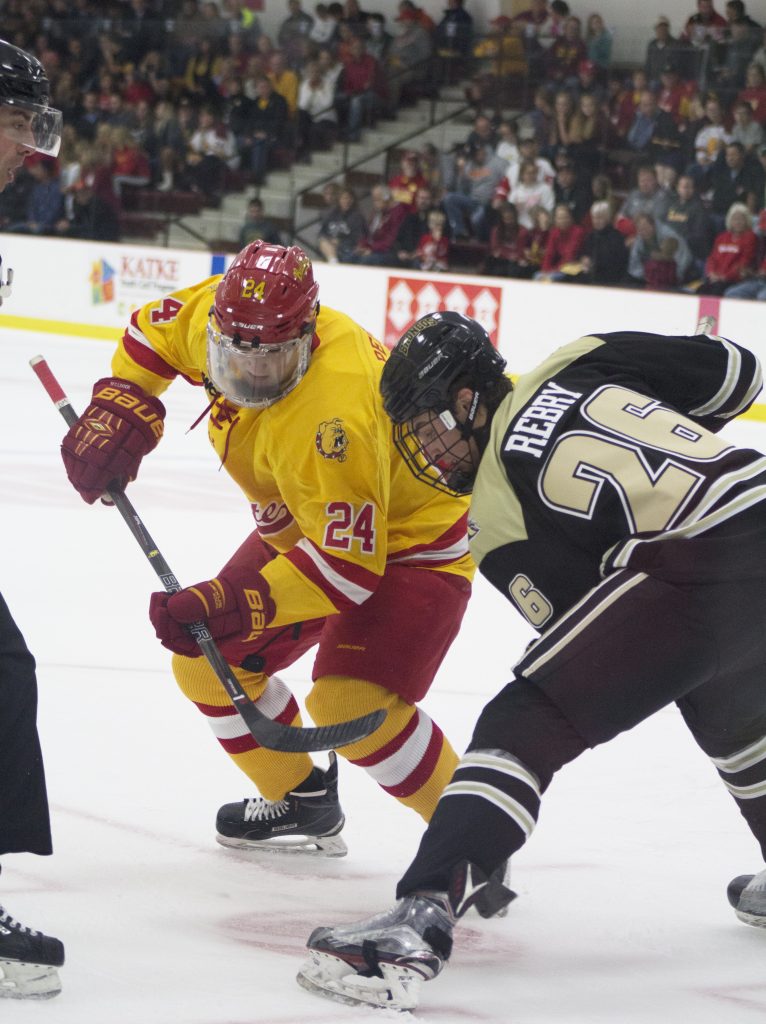 The Bulldogs had an answer for every Western Michigan goal until the final moments of the game, when the Broncos netted two in a row late in the third period to bury the Dawgs 5-3.
Western Michigan got the scoring started in the first while on the power play. WMU sophomore defenseman Corey Schueneman netted a goal at the 14:30 mark. Ferris junior forward Mitch Maloney answered back just over three minutes later to tie it up 1-1. Another WMU goal late in the period made the score 2-1 heading into intermission.
The second period paralleled the first in that no team scored until the final six minutes of the period. This time the Bulldogs started the scoring with a rebound goal off the stick of FSU senior captain and center Jared VanWormer at the 14:48 mark. Western answered to take the lead back for the second time, but Bulldog senior defenseman Ryan Lowney capitalized on a 5-on-3 man advantage to tie it up once again shortly after.
Western took over in the third period both outshooting and outscoring the Bulldogs and skated to a 5-3 victory.
The Broncos took advantage of an inexperienced Bulldog defense featuring four freshman, and kept the pressure on FSU sophomore goaltender Darren Smith by tallying 42 shots on goal. Smith finished with 37 saves.
"We spent way too much time in our defensive zone," Head Coach Bob Daniels said. "[Smith] better get used to it because there's going to be nights like this just as we try to get experience with our defenseman, but I thought he played well,"
FSU sophomore center Craig Pefley recorded two assists on the night, raising his season total to a team-high five assists. VanWormer and Ferris freshman defenseman Nate Kallen were also credited with assists.
Ferris State was whistled for nine penalties and surrendered two goals while shorthanded, which ended up being the margin of victory for the Broncos. With the defeat, the Bulldogs sit at 0-3 with each of those losses occurring on home ice.
"We're not as far away as what people think and it may take a little time. I like a lot of what I'm seeing, I really do, but it's going to take a little time," Daniels said. "You can't get more motivated than the guys are, and that's a credit to them. They're digging in, they're competing hard."
Ferris hasn't beaten the Broncos in over five years, with their last win in the series coming at Western's Lawson Arena in March of 2011. The Bulldogs will be looking to change that Friday, Oct. 7, when they head to Kalamazoo to complete the home and home series with Western. The puck will drop in Lawson Arena at 7 p.m.
To see more photos from this game, click here.