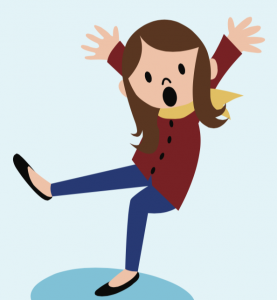 Take one step outside without slipping. I dare you! The weather this first week back has been nothing short of brutal: from snow, rain and now ice. It seems as though Ferris is doing nothing to make our 8 a.m. trek to classes any easier.
You see remnants of salt on the ground, but the salt doesn't seem to be doing much. You would think that Ferris would be doing everything in their power to keep their students safe, such as canceling classes.
We all received the cancelation on the morning of Thursday Jan. 12… For the Grand Rapids location.
Hmm, why not here in Big Rapids? There are so many more students here on the main campus with equally as many sidewalks and roads to slip and fall on.
This past week alone, I have had numerous conversations with people about those who've fallen on the sheets of ice we call sidewalks.
These poor souls have suffered eternal embarrassment by crashing down on these sidewalks that the phrase, "Be careful, the sidewalks kill," is a common closing to any conversation.
In addition to all the conversations I have had, I was scrolling through my Facebook feed and I saw four posts in a row about the snow and ice on the sidewalks.
All of these posts were renditions of "Fell on the sidewalks today" or "Big Rapids is just one big sheet of ice". This isn't exactly what I signed up for when I decided on attending school here.
Now, here in the city of Big Rapids, there are laws which require people to clear sidewalks of snow and ice so they are safe to walk on.
Sure, this is mostly for residential areas, but there are thousands of students who live on or near campus who walk to classes or dining halls daily.
We are paying tens of thousands of dollars to attend classes at this university, but that is impossible when we are not able to leave our apartments and residence halls because of the treacherous walk.
So while we bundle up and waddle to class, we can only hope that Ferris decides to salt the sidewalks today.