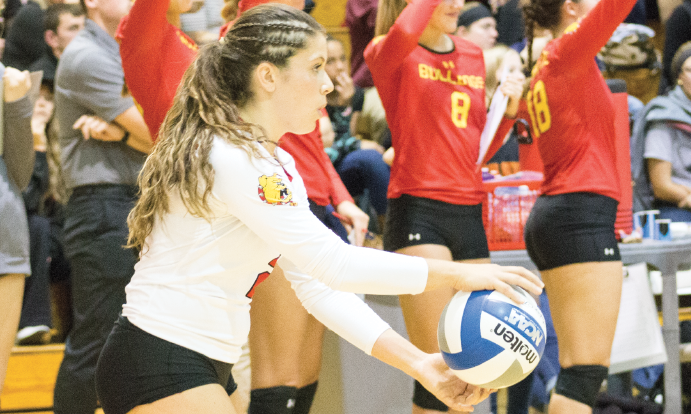 I have so many amazing things I could say about this team and this season, I do not know where to start.
This season took us for a ride. With multiple All-American, All-GLIAC and two-plus year starters leaving us the previous season, we did not know how the dynamic of our program was going to change. We received multiple comments along the lines of, "This year is going to be interesting," or, "It is probably going to be a rebuilding year for your team."
I remember having our first team meeting, talking about what we wanted to accomplish this year. I saw the fire in my teammates' eyes and how we wanted to prove everyone wrong. We had the talent of multiple women who had worked for years to get their chance to play, as well as multiple returners, so I knew we could accomplish something big.
We had a tough off-season, grinding in the weight room and gym to enhance our performance. We practiced for months and months, and before we knew it, we were hosting the GLIAC tournament and about to win for the third year in a row. As the NCAA tournament came around, we got to host once again, and the support we had from our parents, fans and athletic department was absolutely amazing.
We ended up getting knocked out in the Regional Championship match. Looking back and reviewing the season, there is nothing I could say to my teammates to change what we did. I am so proud of what we accomplished, especially because of our doubters.
I do believe that much of our success came from a book that our team read called "Burn your Goals" by Joshua Medcalf. What we captured from this book was what mentally sustained us throughout the season. The book stated that if you work hard day after day, not worried about the outcome, you will come closer to achieving your goal. And that is what we did.
This past season, we graduated four amazing seniors that did so much for our team and I cannot thank them enough; Stephanie Sikorski, Jenna Way, Kaley Konjarevich and Aspen Stuedemann. As I look forward, I am nothing but excited for this upcoming season.
We have five incoming freshmen who we are very excited to welcome. A new year is a new opportunity to work even harder, keep the standards and values of the Bulldog Volleyball Program high and see what we can achieve as a team.