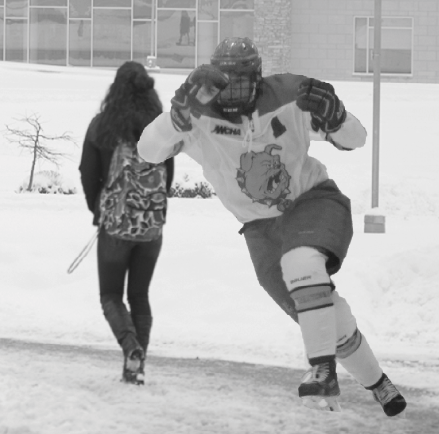 Ferris hockey saw an incredible performance on the skate to class Thursday, Jan. 12, with transfer goaltender JJ Watt recording 102 saves and 50 injured students.
Watt, who spends most of his time as a Houston Texan but was able to receive a year of eligibility in college hockey based on a technicality, showed an inspired effort by not allowing a single student into the IRC that icy morning.
Head coach Bob Daniels said, "It was unbelievable. We give JJ the start in front of the IRC Connector and he plays tremendously. They tried to go in the bottom shelf. He wasn't having it. Wanna go around? Nope. He covered the whole double door! I've never seen a goaltender protect the crease that well."
Meanwhile, the Dawgs' skaters checked students into buildings all around campus as they passed the puck with precision and great timing. Despite the effort, the Bulldogs would tie in overtime.
Senior forward Gerald Mayhew said, "It was like there was no goal. We passed the puck well and people were getting great shots, but we couldn't find the net anywhere."
The Ferris coaching staff signed Watt after they couldn't decide who was the better goalie on the current roster.
"Both Darren [Smith, sophomore] and Justin [Kapelmaster, freshman] were playing great hockey. We felt that we couldn't cut the hairs between them anymore so we decided to outsource," Goalie coach Jason Voorhees said.
Watt was not alone in his spectacular performance. Sophomore defender Tyler Dorantes was undefeated in fights on the ice. Students kept tripping him with their injured, writhing bodies so he decided to take matters into his own hands by dropping the gloves.
He added 10 students to the carnage total, which Daniels thinks is the key to street ice hockey.
"You've got to play hard. You've got to play aggressive, and I think my guys showed that. They played with heart. Our team is chomping at the bit to get back on the ice for another scrimmage with Ferris students," Daniels said.
The balmy weather as of late has interrupted the Bulldogs' ice time, as the campus sidewalks fill with muddy water in place of ice.
At press time, members of the Ferris hockey team were seen surfing the Ferris State Trades Facebook group in hopes of coming across a cheap pair of secondhand rollerblades that could be used to body check students when the weather isn't cooperating.