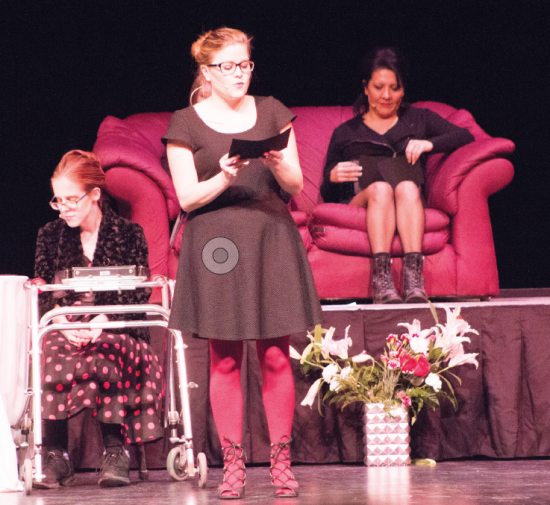 With the support of Women Information Services (WISE) and the Ferris Social Work Association, Ferris hosted the annual production of "The Vagina Monologues" Friday, Feb. 10, as a part of V-Day, a global movement to end violence against women and girls.
Written in 1996, Eve Ensler created this play based off the interviews of hundreds of women of different ages and races, detailing their personal experiences with all things sex and women's health related.
As political controversy and raging opinions bombard social media, the performance took care to ensure the audience understood that equality was the main goal. Man-hating had no place at this event.
Prior to the show, tables lined the promenade around Williams Auditorium. Members of WISE, Diverse Sexuality and Gender Alliance (D-SAGA), Active Minds, and the National Organization for Women (NOW) displayed informational tri-folds, buttons saying "I love Vagina… Monologues," steps and ways for students to help or donate, and most importantly, a community of support for women.
As men and women donning pink hats, beaded necklaces and pro-vagina pins began filtering in, a PowerPoint was projected onto the back wall of the stage displaying statistics from health organizations around the world, as well as feminist quotes from women like Eleanor Roosevelt and Malala Yousafzai.
Running for nearly two hours, "The Vagina Monologues" was a clever, entertaining and profound wake up call. Ferris sophomore Landon McDaid shared what impacted him the most.
"The 'Not So Happy Fact'," McDaid said. "It spoke to me because I didn't know these things happened to women in other countries."
Each of the 14 monologues gave the audience a different perspective covering topics such as sexual consent, childbirth, menstruation, the importance of reproductive health education, the power of finding yourself and the acceptance of transgendered women.
"I'm shocked. It's so sad that these things happens to girls who are so young," said Ferris student Taylor Matan.
As the event came to a close, students gathered both in the auditorium and out, engaging in constructive conversation about the topics portrayed in Eve Enslers "The Vagina Monologues."
The spokeswoman for WISE stressed the importance of speaking with someone about your experiences and seeking professional help with trauma.
WISE offers a 24-hour help line and 24-hour shelter for anyone who may need these services.